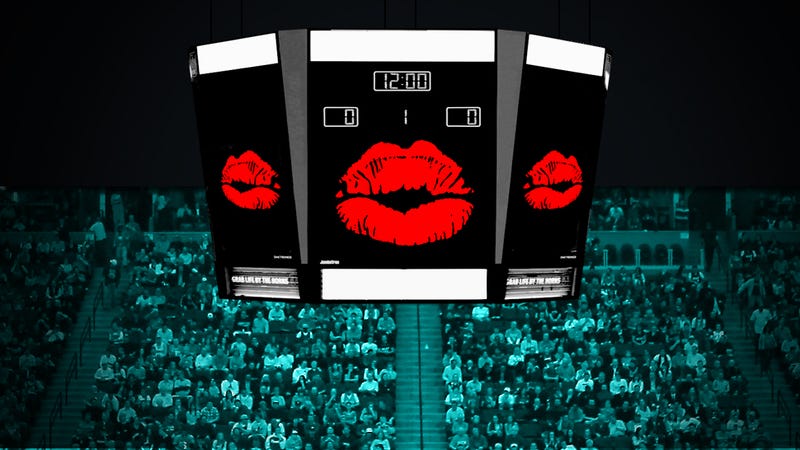 To tell the story of the Kiss Cam, let's start with a kiss that happened off camera. On Aug. 8, 2000, Danielle Goldey and Meredith Kott attended a game at Dodger Stadium. At one point, as couples are wont to do, they smooched. Before long, security guards arrived, removed the women from their seats, and escorted them out of the ballpark. "It was shocking," Goldey told me not long ago. "I'm a diehard, true blue Dodger fan and this is happening. Are you kidding me?"
Their friends, a man and a woman, kissed, too. But they were allowed to stay. What's worse is that Goldey and Kott initially weren't given a reason for being ejected. They later learned that another fan had complained. According to Goldey, the anonymous person had told someone, "I don't want my kids around those kinds of people."
Kissing at a ballgame can be a fraught experience. Kissing at a ballgame can be good, clean American fun. Somewhere between these two poles lies the Kiss Cam.
---
The exact origins of the Kiss Cam are unclear, but like so many American cultural artifacts with mixed legacies—the Eagles, macrobiotics, porn—its roots can be traced to Los Angeles in the 1970s. Somewhere in that decade, the Dodgers decided they needed a video board. Barry Stockhamer, a marketing guru who spent 30 years with the team, remembers touring ballparks in Chicago, Milwaukee, and Montreal in search of inspiration. All the in-game highlights he watched on those trips were on black-and-white screens. But Stockhamer's employer wanted something bigger and shinier.
And thus, Diamond Vision was born. Manufactured by Mitsubishi Electric and reportedly purchased for $3.5 million, the 20-by-28-foot glowing showpiece made its official debut at Dodger Stadium at the 1980 All-Star Game. "Nine people run the scoreboard with a computer board resembling the one used to operate the space shuttle," United Press International gushed. In the same story, Stockhamer deemed it the "largest color television in the world." (For comparison's sake: Each of the comically gargantuan screens at AT&T Stadium in Dallas is 72 feet tall and 160 feet wide.) The newfangled attraction, which loomed high above left-center field, beamed highlights from the game (but never replays of close or controversial calls), snippets of out-of-town games, musical numbers, crowd shots. Cheering, jumping up and down, kissing—it was all on display.
"It's live theater," Stockhamer told me. "If you tried it, you got an immediate response from fans." He began noticing that between innings, umpires would glance up at the board. Revered broadcaster Vin Scully also approved, regularly mentioning Diamond Vision on the air.
It didn't take long for other franchises to follow the Dodgers' lead. Amazingly, when the Mets shelled out $4 million on a new video board in the fall of 1981, club chairman Nelson Doubleday felt the need to reassure the media that the upgrade "will in no way affect our commitment to making necessary investments to improve the team." (Eight months later, the Mets drafted Dwight Gooden.)
In 1986, the New York Times reported that 14 of Major League Baseball's 26 parks had color screens. From a production standpoint, the advent of in-game entertainment presented unique challenges. John Franzone, now the Tampa Bay Lightning's vice president of game presentation, worked for the Mets and Yankees in the '80s and '90s. He remembers live shots being tricky propositions. "In NYC," he said in an email, "I wasn't worried about Kiss Cam as much as avoiding Middle Finger Cam."
By the early '90s, seemingly every arena in the nation had its own video board. Technological advances, like wireless cameras and cheaper, stronger lenses, "made the Kiss Cam (and other fan shot interactive features) proliferate as low-hanging entertainment fruit," according to Franzone.
Bob Becker, executive vice president of Van Wagner Big Screen Network, the company in charge of scoreboard content and production at the Super Bowl, helped introduce the Kiss Cam during the Florida Marlins' inaugural season. It took only three easy steps: Blast a Sinatra love song through the Joe Robbie Stadium speakers, point a camera at a couple, and put them on the screen accompanied by a heart wipe. It was simple, and it stuck.
The Kiss Cam has turned up in movies (How to Lose a Guy in 10 Days), sitcoms (Modern Family), and as a WWE gimmick (it was The Great Khali's signature bit). It been used to catch wanted criminals. Two years ago, while sitting courtside at the Verizon Center for Team USA's Olympic tuneup against Brazil, Barack Obama noticed that he and Michelle were on the arena's video boards. But when he leaned in to lock lips with the First Lady, she didn't reciprocate.
"I didn't see the Kiss Cam part," Michelle later claimed on The Tonight Show, "so I didn't know we were supposed to kiss." Naturally, Malia Obama, in the words of her mother, "was just disgusted with us." The teenager proceeded to explain the gimmick to her parents, and when the Kiss Cam came around again, they embraced.
"It's still the crowd favorite," Becker said. "It could be your first game ever or your 1,000th game." When the Kiss Cam catches you, he said, "You know what you're going to do."
---
But that's just the problem now. As the Kiss Cam became a staple of sporting events, the gimmick's underlying assumptions—that sports fans were straight, that they would find something funny about the prospect of two men kissing—began to fall away. The Kiss Cam hasn't kept up with the times. Consider: Next fall, the NFL's massive stadium video boards are more likely to feature an openly gay man making a bone-jarring tackle than an openly gay man kissing his boyfriend.
In 2011, Jezebel's Erin Gloria Ryan interviewed Jeff Szynal, who oversees scoreboard operation for the Chicago White Sox: