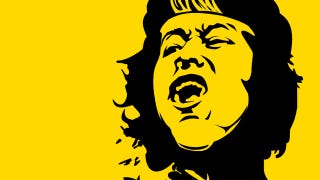 On a May evening, in a cramped biergarten behind a German restaurant off the Bowery in Manhattan, Takeru Kobayashi sat down to a plate of Rheinischer Sauerbraten mit Kartoffelklößen und Rotkraut. First, he produced a small camera and began photographing the sauerbraten for his blog, where he catalogs his personal gustatory experiences. He was dressed in yellow pants, a summer scarf, and a blazer with multicolored markings resembling graffiti. Some nearby diners looked up when the camera flashed, but Kobayashi, the great Kobayashi, went unrecognized, in the city where he became a celebrity.
At one time or another, Kobayashi, a wispily built 33-year-old from Nagano, has eaten 41 lobster rolls in 10 minutes; 57 cow brains (weighing 17.7 pounds) in 15 minutes; 20 pounds of rice balls in 30 minutes, or around 12 percent of his body weight. Most notably, he was the first person to devour 50 hot dogs at the Nathan's Fourth of July contest on Coney Island, nearly doubling the previous record for the event, the first of six consecutive victories from 2001 through 2006.
Kobayashi is living in New York, but he will not be at Nathan's tomorrow. The man and the event, having made each other internationally famous, are in a long-running contractual dispute, one which landed Kobayashi in jail after he showed up at last year's contest. Questions abound. Is he trying to blaze a trail for independent eaters? Is he clinging to past glory? Or is he just crazy? According to Rich Shea, one of the Nathan's promoters, Kobayashi has to decide "whether he's the Che Guevara of gurgitation or the Kenny Powers of power eating." I spent some time with Kobayashi over the past few weeks in an effort to answer these questions, not to mention a deeper one:
What goes on in his kitchen?
We'll get to those in a bit. First: a meal at the biergarten. This was Kobayashi's first encounter with Rhineland beef roast with potato dumplings and braised red cabbage. Maggie James, his half-Japanese, half-American translator/manager/girlfriend, said that he had, in fact, never tried German food. Kobayashi speaks enough English to answer questions, but relies on James to translate his exact meaning for more complicated responses.
This was dinner, with no clock. Under these circumstances, Kobayashi said, he likes to savor his meals. In competition, he will relax his throat and let food "drop" into his stomach, which he says hangs lower in the abdomen than normal, allowing it to expand more. It's a condition called gastroptosis that he shares with his father, who once entered an eating contest himself. Kobayashi focuses so completely during contests that he blocks out flavor.
"If you taste something, you're not at the maximum of your ability," he says. "What I think about in competition is temperature and texture. It has nothing to do with taste or emotion."
Away from competition, Kobayashi told me, he was all about taste. And now he wanted to savor his sauerbraten. We took up knives and forks. Heads inclined toward plates. The savoring began. I looked up, seconds later, while chewing the first bites of my Käsespätzle mit Speck. Half of Kobayashi's sauerbraten was gone, vanished with a quiet and sudden grace. A wry grin creased his face. Then he reached over with his fork and started eating chicken off James's plate.
* * *
Kobayashi lives in Chelsea, in an apartment decorated with a zebra-skin rug, antique lamps, and an array of competitive eating memorabilia. On his mantel, he has arranged a stylized image of himself chowing on hot dogs at Nathans, several magazines with stories about him, a Guinness World Record medallion for spaghetti consumption (100 grams in 45 seconds, the final 20 of which were spent trying to scoop one last slippery noodle into his mouth), and a poster of the Declaration of Independence. When he greeted me on my first visit, he was wearing a t-shirt with an image of George Washington in kabuki face paint.
Freedom is an important theme to Kobayashi. His feud with the Nathan's organizers, the public-relations executives George and Rich Shea, revolves around a contract that forbade him from pursuing eating and food-related opportunities outside the Sheas' own professional circuit, Major League Eating. Kobayashi, who had chafed at the Sheas' monopolistic approach before, refused to sign, then showed up on Coney Island.
The resulting video is dramatic: Kobayashi on stage after the contest — he says he went up as a spontaneous response to cheering fans — wearing a "Free Kobi" t-shirt and clinging to a metal barricade as several burly cops wrestle him into submission. He was charged with trespassing, among other things, and spent the night in a Coney Island jail, where he downed a peanut butter sandwich and a glass of milk.