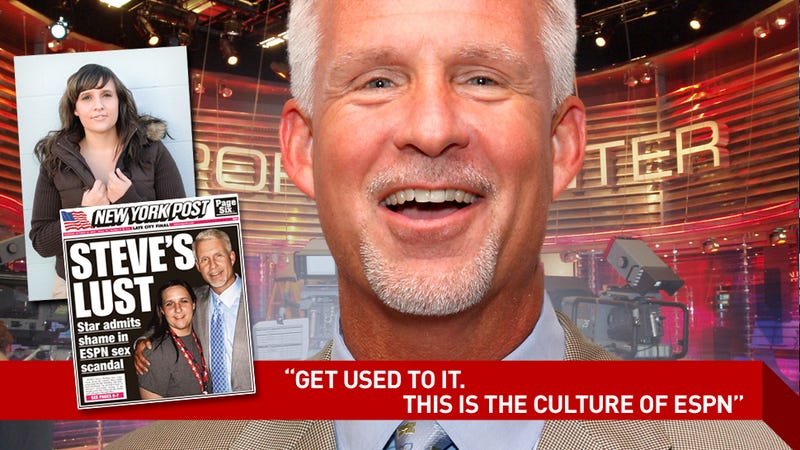 A few hours after the 2009 Home Run Derby, Steve Phillips bought Brooke Hundley a drink. They were at the bar of St. Louis's Millenium Hotel, a block from Busch Stadium, where more than a dozen ESPN staffers had gathered after wrapping up another day's work during MLB's extended All-Star weekend. Hundley was a 22-year-old from Colorado making $10.96 an hour as an ESPN production assistant. Phillips was the former general manager of the Mets who'd spent the previous four years as a baseball analyst at ESPN. They'd met there in St. Louis, and Phillips had clearly taken a shine to Hundley. "Denver chick," he would call her. "Look at this little thing," he'd said to Chris Berman, one of his derby booth mates, as Hundley escorted Phillips from the stadium to a production truck. "She's going to be my bodyguard."
Phillips and Hundley had barely spoken to one another, however, and now here he was, delivering her a screwdriver at the hotel bar. Hundley put the drink down—it tasted of pure vodka, and she couldn't stand it—and headed to the bathroom in the hotel lobby. She came out and found Phillips in the hallway. She shouted over to him, "What were you doing with that drink? Are you trying to get me drunk? It was really strong." He approached her. He put his hand on her shoulder and said he'd never do that. He told her she was pretty. He touched her chest and kissed her. "You should come upstairs with me," Phillips said, as Hundley would later recall. "I got a suite."
And thus began a relationship that in a matter of months would metastasize into the biggest sex scandal in ESPN history—"a 'Fatal Attraction' freakout," in the words of the New York Post, where the story made the front page two days running. It was a low moment for the network, which already had a reputation as a handsy, sex-crazed Connecticut Babylon where the talent freely chased the help around the office. The consequences were numerous and immediate. A contentious little feud broke out between this site and ESPN. Talented people lost their jobs. Bristol executives went so as far to tell employees that boinking each other would mean trouble. "This wasn't just about Steve Phillips and Brooke Hundley," Jim Miller, co-author of the ESPN oral history Those Guys Have All the Fun, told me. "That episode set in motion a hysterical reaction on the part of ESPN leading to significant collateral damage."