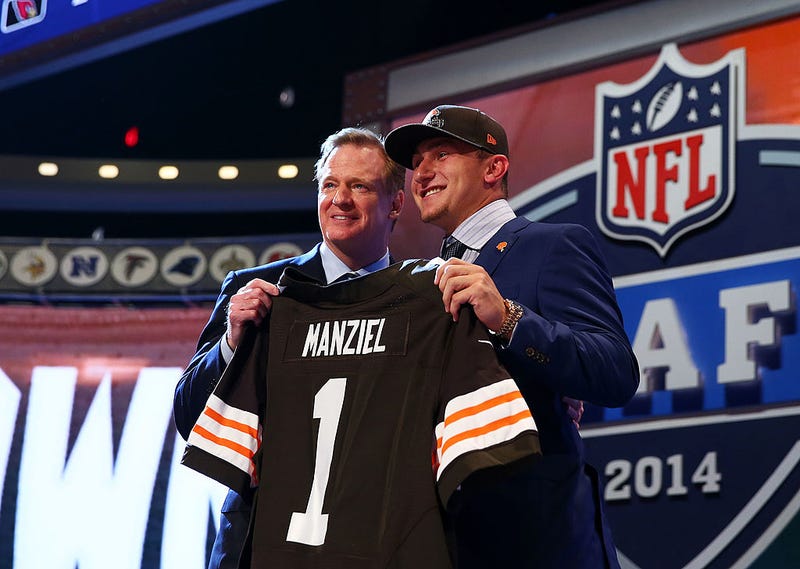 There is a weird-as-hell story on A1 of the New York Times today mashing up two of the two biggest stories of the NFL week—the indictment of Johnny Manziel for assault, and this Thursday's NFL draft. It's an amalgamation of two distinct ideas, both with merit but neither fully formed, fastened onto each other for the sake of newsworthiness and unable to hold together thanks to an implication of causation where there's not even correlation.
The piece—an essay, really, by John Branch, a great reporter and fine writer—is hurt by an overreaching headline: "In Johnny Manziel, a Human Cost to the N.F.L. Draft Machine." It's a straight recapitulation of how Manziel went from hot college prospect to trainwreck, laced with accusations that the NFL draft is the purest distillation of a pernicious NFL culture that "[views] football players as interchangeable parts to be haggled or numbers to be calculated."
It feints at the notion that the two are related, but never quite connects the dots (I suspect because it's impossible). Here's the closest thing to a thesis statement:
The N.F.L. draft — our coverage of it and our appetite for it — is a cultural phenomenon. But it also shows, as much as any sporting "event" in this country does, how fans and leagues — and even the players themselves in this age of social media — are willing to dehumanize the games they love, turning people into products and lives into entertainment.
Well, sure. The average NFL fan cares about a player only so much as that player can help his team win. Same goes for the team itself. The league cares about how much money that player can make it. None of this is unique to the NFL, or to this "age of social media," and it sure as hell isn't unique to Johnny Manziel.
It's an irresponsible stretch to even suggest that Manziel's precipitous draft-day fall had anything to do with his subsequent downward spiral. This is a person who had substance abuse problems before he left college, spent his entire life before entering the NFL with a shaky support system, and is and was, by all accounts, not a good person. The public eye post-draft wasn't new to him—Manziel was one of the biggest college stars in decades, playing in Texas—and going to Cleveland might actually have lowered his local fame and reduced his circle of enablers.