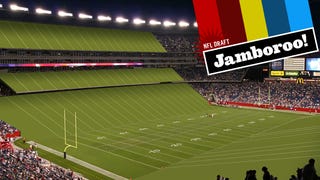 Drew Magary's Thursday Afternoon NFL Dick Joke Jamboroo runs every Thursday during the NFL season. Email Drew here.
Good God, are we finally drafting already? Holy shit, that took forever. This year's NFL draft was bumped back two weeks because Radio City Music Hall was initially booked with James Dolan's new failed musical. So just in case you thought Roger Goodell was a strutting, big-cocked beacon of American might, just remember that he let his shit get owned by the Rockettes.
This has been arguably the lamest offseason in NFL history. Perhaps I've been spoiled by the past two offseasons, which featured Peyton Manning switching teams and Aaron Hernandez gunning down half of your extended family. PRECIOUS MOMENTS, to be certain. What happened this offseason? DeSean Jackson getting dropped? Pfft. He didn't even get to kill anyone. (Or did he?!)
I am the sort of person who treats non-football sports as filler programming for whenever football isn't on. The NBA is my friend only by circumstance, and I'll happily desert it any time Tim Tebow finds a new team to cut him. But this offseason has tested even my tolerance for minor free agency signings and bloviating draft reports. The NFL is constantly searching for a limit to our appetite for football, and I think, with this buildup to a late draft, they've finally stumbled onto it. I'm not alone in despising the late draft. Draftees have complained because they're left uncertain about their new home. Executives have complained because they have to stay late at the office in order to look like they've scouted harder and longer than other executives. And I'm complaining because I like to bitch about everything.
But we should all get used to the NFL spreading itself thin. Roger Goodell has repeatedly tried to champion the 18-game schedule. But since that's unlikely to happen any time soon, he's trying to squeeze more out of what's currently in the pantry. Hence, you have the Ginger Hammer backing an expanded playoff field. And rumors that the NFL would like to extend the draft to four days from its current three-day orgy. And a Thursday night slate this season that will get national coverage on CBS. And late season Saturday football finally returning (I'm strongly in favor of this one). The NFL is trying to manufacture more football out of the football it already has, and you can see the strain.
The NFL has blown up over the past few decades because it's awesome and because of gambling and because, compared to other sports, football asks very little of your time. You can set aside a handful of hours a week for the NFL and still get other things accomplished in your life. But now the NFL is trying to demand more of you. An extra Thursday night here. An extended combine there. A shitty Kevin Costner movie for you to go watch. You know how movie studios will take a bestselling book and split it into two movies to make more money and piss everyone off? That's what the NFL is doing with football right now. I don't want football to have the same time obligations as baseball or basketball. That's what makes those sports so annoying. They have so much product that it becomes wallpaper.
Because we live in a growth economy, no sports league can ever move backwards. No sports league will ever reduce its schedule. No sports league will ever contract its teams. You cannot get smaller anymore. You can't undo the growth once the growth has been put into place. And that sucks, because downsizing is often a good and necessary thing. Once the draft goes to four days, it'll never go back to one. It'll go to a full week, and then a month, and then become a terrible reality show. That's how it works. We kill everything good by overdoing it.