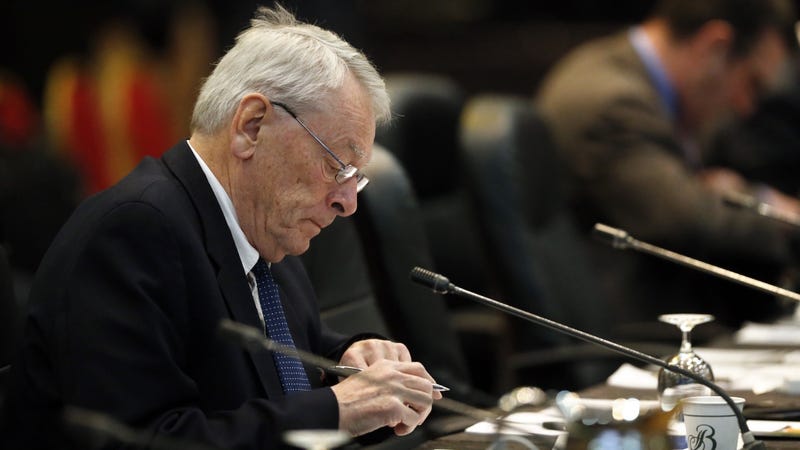 January 14th occasioned anticipation on the order of the Second Coming for track fans and athletes. Indeed, it was the second revelation (press conference) of the World Anti-Doping Agency's independent investigative commission, headed by former WADA director Dick Pound.
Two months earlier, Pound et al had torn through Russian Athletics, taking names, kicking ass, and laying bare state-sponsored doping, destruction of blood samples, bribery, coercion, a carnival of corruption. Finally, thought the long-suffering people of the lightweight trainer, an insider with clout and the guts to speak truth—our savior has come! Very lean people everywhere wept. Pound really whipped the congregants into a frenzy when he advertised that part two of his revelations, dealing with the International Association of Athletics Federations' involvement in Russia's sins, would make chapter one pale in comparison. Presser #2 would have a "wow factor" Pound promised the already wowed disciples.

Enraptured followers surmised that, with past IAAF president Lamine Diack and his henchmen under criminal investigation and Russian athletics banned from major competition, current president and long-time student of Diack, Sepp Blatter and other criminals Sebastian Coe was about to get a public Pound-ing, a routing of the whole nest of them there in Monaco quite possible. A real housecleaning seemed imminent. Under the circumstances, it was puzzling to see Lord Coe amongst the journalists at the conference—didn't he know he was about to be exposed?

Pound started down the road to the promised land, reading off in flat, measured tones a litany of bribery and extortion of athletes by Diack and company, a stinking sack of poo Pound said "no one in the IAAF executive council could have been unaware of." He said this knowing that Coe was a member of that council as IAAF vice-president. And Pound rehashed how very bad the Russians were.

But pretty quickly, the excitement in the press conference leveled off. Anxious viewers were still waiting for fresh revelations (nothing was revealed that was not already outed in the November press conference), and for the promised "wow factor," when Pound wrapped up his comments and opened the floor to questions. He'd reported actions by the IAAF that violated its own and WADA's code, but stopped short of saying the words, The IAAF is in violation of its sworn code of conduct and therefore should be banned. He said the council could not have been unaware of the corruption, but he never uttered the words, Lord Coe knew of this rot but did nothing about it. He came agonizingly, puzzlingly close, but didn't deliver the coup de grace. That was a little disappointing.

Then, at about 32 minutes into the coverage, Dick Pound, truth talker, the savior of athletics, sold his soul, or at least, paid the bill. A journalist asked if, given the damning evidence Pound had just reported, did he feel Seb Coe was the right man to lead the foundering organization out of its filth. Without visibly changing character or growing cloven hooves, Pound replied that he couldn't think of a better man than Lord Coe for the job. He heartily and consistently endorsed the guy who had only the day before denied all the nefarious goings-on Pound subsequently revealed. Coe sat in the audience calmly.