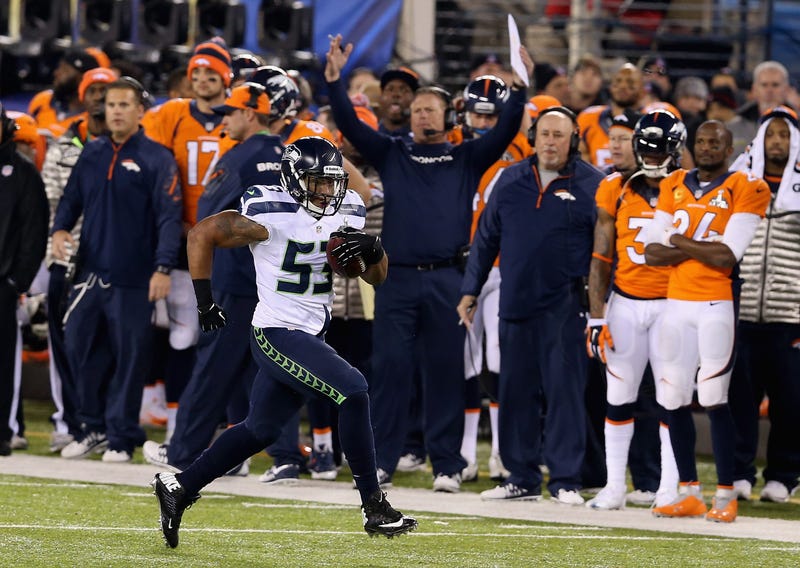 The best offense-best defense matchup should have been a grinding, tough, watchable-for-all-60-minutes game with a million lead changes, or so that's what we envisioned. Instead, the Seahawks devoured everything in front of them. Seattle embarrassed Denver's NFL-best offense, 43-8. It wasn't even close.
From the beginning, the Broncos were having a tough time. A flubbed snap turned into a safety, and the Seahawks had a 2-0 lead in seven seconds. It was still so early, though, and the Broncos' defense admirably kept it close on the following Seattle possession, holding the Hawks to just a field goal for a 5-0 lead.
So, Peyton Manning and the Broncos had the ball back, a fresh start, only down one possession. Everything was fine. Start that drive—except, they went three and out with a Knowshon Moreno run and two short, conservative passes. And again, the defense held the Seahawks to another field goal after a grueling six-minute drive, keeping it a one-possession game at 8-0. When was the nonstop touchdown factory we witnessed all season going to show up?
Seattle's defense never allowed it any relief. The stat sheet only shows one sack and four quarterback hits for the Seahawks, but the pressure was more prevalent than that. The pockets were tight around Manning as he dropped back. Blitzes came from all over, as usual. Eventually, the error-free, fast-paced Denver offense faltered in a more significant way than punting: turnovers. Moreno fumbled, though it was recovered by his teammate Zane Beadles. But on the next play, Manning threw a pick. Denver had four total turnovers in the game.