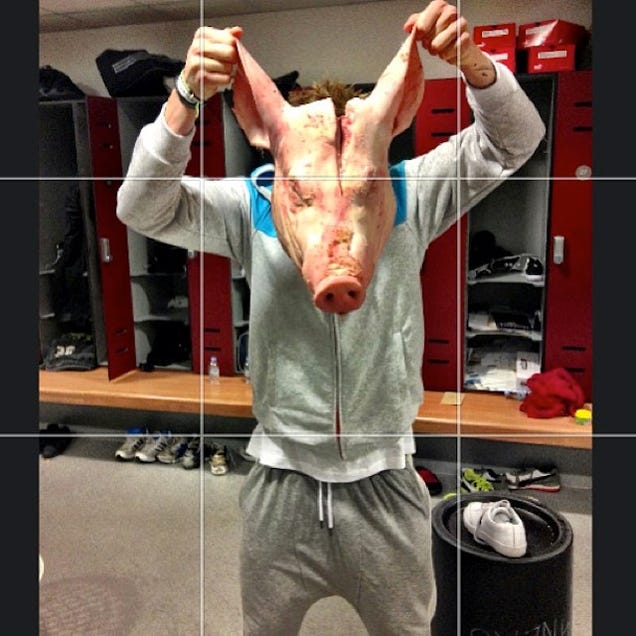 Solidly mid-table, Stoke City haven't had anything to play for in a while. They've been pranking each other all week in the lead-up to their final match, including egging Michael Owen's Mercedes. But someone went a little too far.
Striker Kenwyne Jones found this pig's head in his locker this morning. Midfielder Glenn Whelan put it there. Jones freaked out and threw a brick through Whelan's windshield. Team bonding! (Cool Instagram filter, Brek Shea.)
Jones's girlfriend isn't very happy either:
Big men acting like kids a pigs head is not a prank its just disgusting!!!!! Wtf??? I don't get how was that sup 2 be funny!!!! Really???

— Kissa Abdullah (@kissakj) May 17, 2013
@theswin they put a huge bloody pigs head in his clothes at training! He warned them 2 keep him out of the banter or else! u kno the rest

— Kissa Abdullah (@kissakj) May 17, 2013
@domwright14 ok so put a used tampon in an oat cake and eat it #dick #shouldbefunforyou

— Kissa Abdullah (@kissakj) May 17, 2013
Everyone is entitled to their own opinions mine is I don't agree wrapping a pigs head in his clothes!

— Kissa Abdullah (@kissakj) May 17, 2013
Stoke management was forced to release a statement, an actual statement:
"The Club takes seriously reports of an incident at our Training Ground this afternoon.

"A full internal investigation will be carried out and those responsible for any unacceptable behaviour will be dealt with in accordance with the Club's disciplinary procedures."
Not sure what's to investigate. Just some banter.