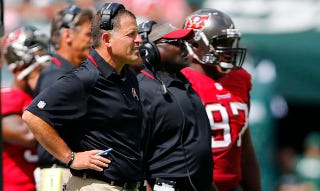 Be thankful you aren't a Buccaneers fan. It's one thing for an 8-8ish team to bumble around and lose in the sloppy first few weeks of fall. It's another for that team to look like a 10-win team for 59 minutes and a two-win team for one. Of all the ways for an NFL team to arrive at mediocrity, the Bucs have chosen the cruelest.
We all remember what happened in Week 1, when Lavonte David erased what was a sure victory by love-tapping Geno Smith out of bounds, drawing a personal foul that put the Jets in range for a last-second field goal. That led to Sad Lavonte David crying on the field after the game. I still want to hug Sad Lavonte David.
Week 2 was a variation on the theme. Once again, it was penalties that did in the Bucs. After drawing 13 flags in Week 1, they followed up with a 10-penalty performance in Week 2—118 yards, gift-wrapped for the New Orleans Saints. The worst of them came in the third quarter, when a 73-yard touchdown to Vincent Jackson was nullified because the Bucs had been in an illegal formation. One of the tackles had been lined up two yards behind the line of scrimmage, for some reason.
And yet, despite doing their best to hump away the game via penalties and general incompetence, the Bucs actually played well for the most part. Their defense, especially the secondary, is legitimately punishing and fun to watch. The D not only held Drew Brees in check for most of the game, it was responsible for the two most thrilling sequences of the day: a four-play stand at the goal line—which was, hilariously, extended by a fourth-down offsides call on a Saints field-goal attempt—during which Mark Ingram and Pierre Thomas were emphatically stonewalled three times; and Mason Foster's 85-yard interception return, which featured a lot of nimble running by the big man and a rolling caravan of defenders-cum-downfield blockers.
There's a decent team, somewhere in there. Doug Martin spent the fourth quarter carving up the Saints' defense, and with just over a minute remaining and the Bucs up 14-13, he drove Tampa Bay within field-goal range. Naturally, Ryan Lindell biffed the 47-yarder. Three Drew Brees laser beams and one Garret Hartley chip shot later, and the game was over. 16-14. It all happened so fast Lavonte David didn't even have time to cry.
Greg Schiano has molded the team in his image. Like their coach, the Bucs are competent in enough aspects of the game that it's infuriating to find them so inept in the others. (For all the good Schiano did with Tampa Bay's rushing defense last year, it was apparently done out of the misbegotten and outdated belief that the key to a great defense is stopping the run. Unsurprisingly, the pass defense—demonstrably more important, particularly in the modern NFL—suffered as a result.)