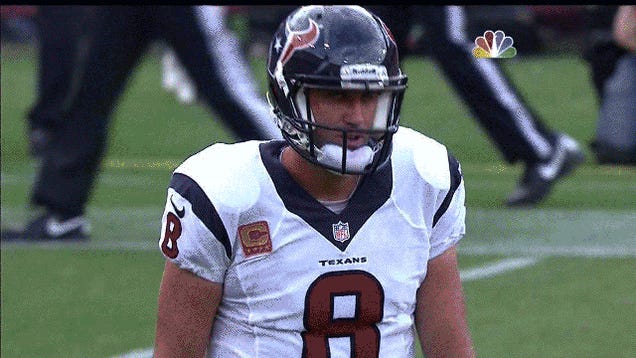 Of the 139 points that the Texans have allowed in the first five games of the season, 45 of those were the direct result of a Matt Schaub interception. You know all about the pick-sixes—Schaub has thrown one in four straight games—but Schaub's other interceptions have gift-wrapped 17 additional points for the Texans' opponents.
In Week 1 against the Chargers, Schaub started the game by throwing an interception to Cam Thomas, who returned the ball to the Texans 14. On the very next play, Philip Rivers threw a 14-yard touchdown to Ryan Mathews.
In the Texans' Week 2 victory against the Titans, Schaub coupled one of his pick-sixes with a second-quarter interception to Bernard Pollard, who ran the ball all the way down to the Texans 23. The defense—those poor bastards—stood strong and pushed the Titans back six yards before having to surrender a field goal to close the half.
And then there was last night, when Schaub followed up his fourth pick-six of the season by tossing yet another interception to the 49ers' Tramaine Brock. This one was returned to the Texans 32, which set up an easy drive that was capped off by a two-yard Anthony Dixon touchdown run.
All told, Matt Schaub is responsible for 32 percent of the Texans' points allowed. Without Schaub, the Texans' points allowed per game would drop from 27.8 to 18.8, good for ninth-best in the league. On the bright side, all the bad field position that Schaub has saddled his defense with has helped them maintain a low yards allowed per game mark. Still: It's one thing for a quarterback to play badly, but it's something else entirely for him to take one of the best defenses in the league down with him. Matt Schaub, you son of a bitch.