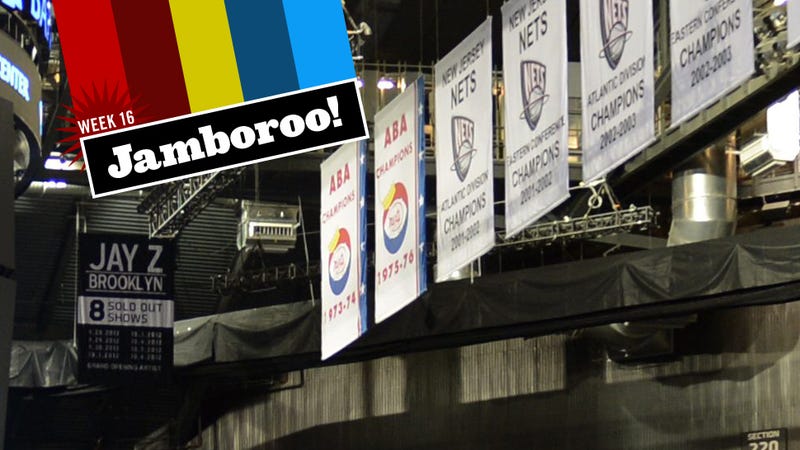 Drew Magary's Thursday Afternoon NFL Dick Joke Jamboroo runs every Thursday during the NFL season. Email Drew here.
I went to the Barclays Center for a concert last weekend and up in the rafters of that joint is a banner commemorating the eight sold-out shows that Jay-Z performed to open the arena. Now, that banner is there because Jay-Z used to own part of the Nets and also owned a whopping one-fifth of one percent of Barclays Center, a stake he sold away this fall. But the banner is still there, and it's complete horseshit.
As someone who has never attended the Pitchfork Music Festival, I am not obligated to like Jay-Z. You didn't WIN anything, Jay-Z. Imagine Dan Snyder throwing up a banner in FedEx Field because his kid won a dressage competition (should be forthcoming shortly). This is nearly as lame. THIS IS BANNER INFLATION, and it the scourge of the modern professional sports facility.
The Patriots have that infamous 16-0 banner. The Vancouver Canucks have a banner for winning the President's Trophy (but not the Stanley Cup). The Edmonton Oilers have a consecutive sellouts banner. The Saints have a banner for selling out the 2006 season:
[Update: OK, maybe that one deserves an exemption.]
And both Billy Joel and Elton John have their own banners hanging in Madison Square Garden (at least they didn't have to buy a stake in the joint to get the banners up there). We need to set some ground rules for what deserves to be on a banner (or a pennant, or a wall of fame) and what doesn't, because someone as rich and famous and widely beloved as Jay-Z shouldn't need a fucking commemorative bedsheet just to satisfy his own ego. Here is what should earn you a banner:
1. Hall of Fame player's retired number
2. Major pro sports championship
That's the list. That's all you get. Some shitty teams that have never won anything will hang banners for division championships and conference titles (almost justified but still not a title) and sellout streaks just to fill the ceiling and that is WEAK. If you've never won a title, that ceiling should remain dead and empty—a constant reminder of your failings as a professional sports franchise. Let that physical void be a spiritual void as well. Every other banner is a waste of time.
Now, before we get to the Jamboroo, a quick PROGRAMMING NOTE: I won't be around next week because I'll be chasing kids around and making sure they don't pull down the fireplace screen. Your replacement writer for the Jamboroo will be, as always, Deadspin founder Will Leitch. Every year he subs and every year he does a fantastic job. He's witty and compassionate and smart. I give him a B-.
The Games
All games in the Jamboroo are evaluated for sheer watchability on a scale of 1 to 5 Throwgasms.
Five Throwgasms
Saints at Panthers: If it's the end of the year, that means it's time for Pitchfork's annual roundup of favorite songs and albums. It's a FEAST of insufferable pretentiousness, as if you herded a thousand RISD seniors into a single room and forced them to collaborate on a single paragraph. Picking the most overwrought passage is an impossible task, but let's try this one!
"Dreamhouse" achieves the acrobatic paradox of being weightless and enslaved to gravity at once, emotionally as well as sonically.
Oh, that's perfect. All that's missing is the word "monoculture." We're all slaves to gravity, when you think about it.
Patriots at Ravens: When the Lions scored a touchdown and took the lead late against the Ravens on Monday night, Jim Schwartz walked out from the sideline and threw up the WE'RE FUCKING GOING FOR TWO sign, which has to be one of the most gratifying things you can do as a coach. They ALL walk 20 yards out onto the field to give that signal. I would pay three dollars to attend a camp where you do nothing but make emphatic hand-gesture commands at football players and refs. WE'RE GOING FOR TWO! TIMEOUT! TIMEOUT MOTHERFUCKER! I make those hand signals at home all the time when I'm watching. Really lets the team know what I need from them.
Four Throwgasms
Bears at Eagles: It's Christmas and you need last-second gifts to buy for people you don't care about (that's everyone but you). Not to get all Peter Kingy on you, but here's a list of kickass books for your loved ones. I recommended some of these before, but I'm posting them again in case you can't find the old recs. I deal strictly in books about murder and/or people being lost at sea.
Over the Edge of the World, Laurence Bergreen
Devil in the Grove, Gilbert King. Any book with the word Devil in it is bound to be great
Island of the Lost, Joan Druett
Frozen in Time and Lost in Shangri-La, Mitchell Zuckoff
The Murder of the Century, Paul Collins
Endurance, Alfred Lansing
Killing Pablo, Mark Bowden
Into Africa, Martin Dugard
Unbroken, Laura Hillenbrand
Conquistador, Buddy Levy
Hellhound on His Trail and Ghost Soliders, Hampton Sides
The Devil in the White City, Erik Larson
The Monster of Florence, Douglas Preston & Mario Spezi
The Long Walk, Stephen King (writing as Richard Bachmann)
Carter Beats the Devil, Glen David Gold
Skeletons on the Zahara, Dean King
The Kid Stays in the Picture, Robert Evans
City of Thieves, David Benioff
Columbine, Dave Cullen
Midnight in the Garden of Good and Evil, John Berendt
Positively Fifth Street, James McManus
The Things They Carried, Tim O'Brien
The Lost City of Z and The Devil and Sherlock Holmes, David Grann
Any Jon Krakauer book, especially Into Thin Air
Any Mary Roach book
Also, I wrote a book this year. No one is murdered in it, which was a glaring oversight on my part. I'll try harder next time.
Colts at Chiefs
Three Throwgasms
Cardinals at Seahawks: There are two NFL teams that have nicknames that overlap with baseball teams (Giants and Cards), and that can make for a bit of extra work searching for their shit on Google. It got me wondering whether the baseball team or the football team would win in a GOOGLE FIGHT. Let's check the stats! If you Google CARDINALS, you get four top results each for the St. Louis Cardinals (SMARMINALS) and the Arizona Cardinals, which I found shocking. I figured the baseball team would romp in the top nine (the top nine is rounded out by Catholic cardinals; the bird doesn't make the cut). If you Google "Arizona Cardinals" (I used quotes in the search to make sure there weren't any stray results), you get 4.4 million results. If you Google "St. Louis Cardinals," you get 18.5 million results. Some of the St. Louis Cardinals search results probably reference the old football team before they moved, but still, baseball Cards are your winner.
If you Google "Giants," you get six results for the NFL team, one result for the baseball team, two entries for mythical giants, and a link to Giant grocery stores. Google "New York Giants" and you get 34.5 million results. The baseball team gets 16 million. The football team CRUSHES it. KILLS it. SLAYYYYS it. By the way, if you search "Eagles," you get a bunch of NFL results and a couple results for the Eagles the band. Sorry, Boston College. You get jack shit.
Two Throwgasms
Giants at Lions: A lot of people have been asking about ZODIAC MOTHERFUCKER, famed Lions fan and world's greatest drunken tweeter. Zodiac disappeared from Twitter three weeks ago after taking this photo of a cop car pulling him over, with the simple caption "FUCK." Since then, nothing. So I called Zodiac (he posts his number on Twitter often), but only got his voicemail, which was glorious in and of itself. "This is Zodiac Motherfucker. I can't answer the phone right now, or I'm on the phone with some other asshole." I'll let you know if I hear back but I'm not terribly optimistic.
Cowboys at Skins: Here's my thing about the eventual shitcanning of Mike Shanahan: What about GM Bruce Allen? The narrative here in the DC area is that Allen was hired by the Skins at the behest of Shanahan. That he was hand-picked. But it's a bit murkier than that, since Allen was hired before Jim Zorn was formally terminated (initial speculation was that Allen was going to be a package deal with Jon Gruden) and has sidestepped all the shit being thrown around in DC, even though the Skins are fucking terrible and some of it—the lack of depth, the bad defense, the shitty player management—HAS to be Allen's fault. Mike Shanahan had all the personnel power with the Skins, which means Allen was either a lackey or a nonentity with the team, and neither answer is comforting. I bet Shanny gets canned and Allen gets to stick around as a kind of glorified Vinny Cerrato. By the end of his tenure, Dan Snyder will be making him serve shrimp cocktail to RGII outside the locker room.
Vikings at Bengals
Steelers at Packers
Dolphins at Bills
One Throwgasm
Falcons at Niners: Last game at Candlestick, everyone! Oh, how Chris Berman must nut his pants thinking of how much he loves that dump. The old Niners regime treated him like a team VP and that asshole ate it up like marble poundcake. Change the channel IMMEDIATELY if you see Berman waxing nostalgic about that joint this weekend.
Browns at Jets: I posted my kid's wish list for Christmas a while back and after that posted, another wish list from 1915 made the rounds, and it was basically designed to make modern parents feel like absolute shit: