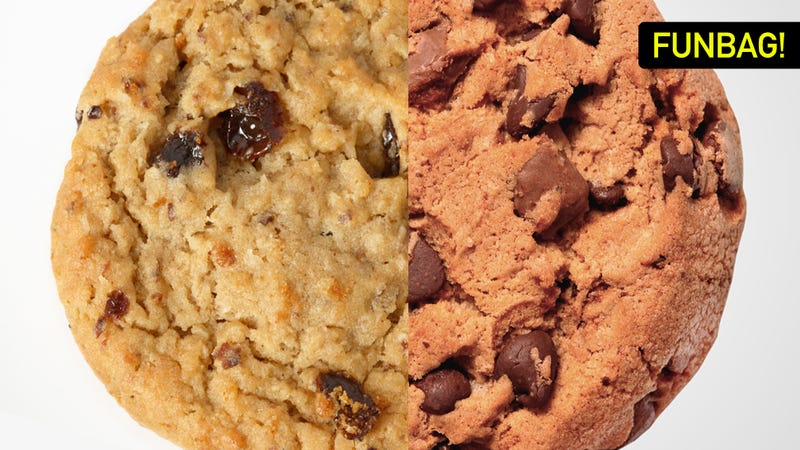 Time for your weekly edition of the Deadspin Funbag. Got something on your mind? Email the Funbag. Today, we're covering accents, WAGs, gym rats, poop, and more. Your letters:
Christian:
Oatmeal raisin or oatmeal chocolate chip? I think the former is the greatest cookie ever but my co-workers say the latter. Am I fucked up or are they?
What about oatmeal raisin chocolate chip? Must the raisin and the chocolate chip be mutually exclusive? Can they not live in harmony forever and ever with the occasional walnut bit dropping by for a three-way?
As someone who believes that chocoholism is a disease, I favor any cookie that has the addition of chocolate chips. I'm the kind of person that, after eating a chocolate-free dessert, will demand a SECOND dessert that has chocolate in it. I am Cathy. When my wife scans a dessert menu and is like, "Ooooh! Mango tart!" I tell her to piss off. We're having the molten lava chocolate jizz cake and that's final. So I'll always pick the cookie that has chocolate in it. Not that I don't see the value in an oatmeal raisin cookie on its own. It's good. But why NOT add a cup of Tollhouse morsels to that fucker while you're at it? YOU HAVE ONLY CHOCOLATE TO GAIN.
In fact, just to start a fight, here's how I would rank the world's cookies:
1. Chocolate chip (this one, specifically)
2. Oreos
3. Thin mints
4. Tagalongs
5. Monster cookies (peanut butter, m&ms, oatmeal, possibly horse parts, etc)
6. Samoas
7. Mallomars
8. Florentines (chocolate-dipped only, please)
9. Fudge Stripes
10. Oatmeal raisin
11. Ginger snaps
12. Berger cookie
13. Macaroon
14. Snickerdoodle
15. Peanut butter cookie
16. Sugar cookie
17. Black and white cookie
18. Shortbread
19. Nilla wafers
20. Milanos
21. Madelines (Are you a cookie or are you a cake? YOU MUST CHOOSE)
1,006. Fortune cookies
1,006 (tie). Biscotti. God, women go batshit over biscotti. EVERY cookie tastes good dunked in liquid, honey.
I'm sure I've forgotten some important entries here, so please dive into the comments and tell me what an awful person I am.
Kevin:
I'm 35. I work in marketing. I have no connections to the NBA. If tomorrow I was given Michael Jordan's basketball talent, could I make it to the NBA? How would I go about doing it? Join a big city Y league? Try and make a name at the Rucker? Harass any agent who will listen? What would be the surest way from total obscurity to the NBA?
The NBA D-League held open tryouts last September, so I would imagine they'd do it again next fall. But that means you would have to wait around for the next five months before someone noticed you. What you'd have to do in the meantime is make a highlight reel. You'd have to get a friend who's decent with a camera, head to a pickup court where they'd actually let you play instead of making you wait there like an asshole for three hours while you feebly hold your hand up and ask, "I got next?" Then you'd have to OWN the court, pulling off all kinds of crazy tomahawks and windmills and dunks from the three-point line and what not. Then your friend hops on Final Cut and edits together all your kickass moves, all scored to just the loudest, shittiest hip hop song possible. Maybe an old, obscure No Limit song. Something truly awful.