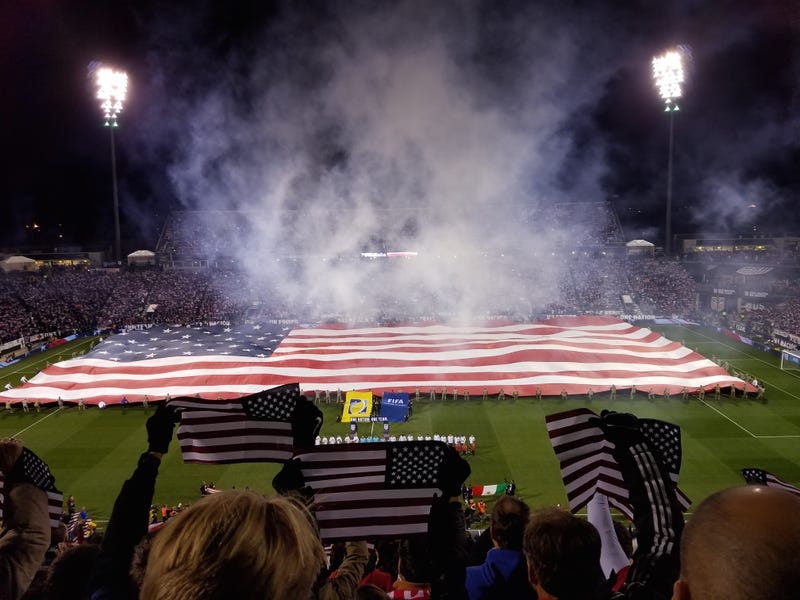 Since they were first unveiled, I've had highly mixed feelings about the design of the 2016 USMNT jerseys, especially the road uniform. Someone at Nike decided the iconic red, white, and blue was passé and needed a black-and-maroon makeover. Why, who knows? The flag, perhaps, just isn't cool enough.

Last week, though, I was grateful to have one of those weird road unis. Ann Arbor, Mich. is a town in mourning, and feels completely disconnected from a country that now has Donald Trump as its president-elect. Everyone keeps asking each other if they're okay, there's no such thing as a guilt-free laugh, and we're paranoid about who around us may have actually voted for him. I've been self-consciously avoiding wearing any patriotic clothing, even just the color red. The inexplicable black jerseys now seem strangely prescient.
And, somehow, Friday had to be the day of the game I'd been looking forward to for years. After the election, as I felt nauseated and nearly paralyzed over the uncertainty of the future—what this means for our country, and for me as a newly out trans woman—I could barely comprehend that I was about to gather with thousands of other people in public to boo Mexico, as if I had "deplorable" in my Twitter bio. It felt suddenly wrong, as if I was about to make myself some representation of evil and racism.
Even the reasoning behind putting these matches in Columbus, Ohio—U.S. Soccer was "looking for a location where they could count on a pro U.S. crowd," as Clark Hunt somewhat euphemistically put it to Sports Illustrated—feels cruel now. What was once savvy gamesmanship now feels like a Trumpist slap in the face, especially given the nature of the U.S. national team as a genuinely multicultural one, featuring players who hail not just from across the country, but from all over the world.
I've been alternately uneasy and terrified since the election; I can barely breathe when I try to read about Trump's 100-day plan, or when I think about the possibility of transitioning with no health insurance or discrimination protections. But it eases up a little when I'm with my friends or at work, and we fall into the rhythm of our days. The things I know and love have continued to be.
The USMNT is one of those things. Tim Howard's leadership, Clint Dempsey's defiance, Michael Bradley's continued confidence in the face of repeated failure: All of this make me want to be a better person. Landon Donovan's goal against Algeria helped inspire me through one of my life's most hopeless periods. I've fallen in love with more bench players and prospects than you've probably ever known. (Hi, Will Bruin!) And as sick and depressed as I had been, I couldn't just abandon them and my family's long-held plans to see the ultimate U.S. fan's game in Columbus, even if my heart wasn't fully in it.
Surprisingly, at least to me, the mood in Ohio was festive; it was nearly as if what had happened Tuesday hadn't. In the parking lot, in the bars, and on the streets, American Outlaws were drinking beer in huge numbers and blasting all the weightless, stress-melting party classics, from "I Want You Back" to "Hey Ya!" to "Party in the U.S.A." The only overt references to politics I saw were John Kasich's name on the Ohio Expo Center and a Mexico fan's sign that said "Build a Wall of Peace." (Conceptually, I have no idea what a wall of peace would look like, but damned if I didn't tear up just a little bit). Mentioning Trump in Columbus felt akin to bringing up the bride's ex-husband at a wedding.
The relationship between fans of each team was unexpectedly beautiful. The taunting was good-natured "We're gonna beat you" stuff; kids in both Mexico and USA gear played keep-away with each other; the ugliest sight around the stadium was dudes trying to piss in the grass. It was like there was an unspoken-but-concerted effort to be as respectful as possible, to answer the dramatic shift in culture and politics that America had just forced upon Mexican-Americans with basic decency.

The vibes reminded me of when I was in Indiana right after Mike Pence signed that state's anti-gay "religious freedom" bill, and the response was more rainbow flags in store windows than I had ever seen before. After witnessing endless examples of the absolute worst of America over the last few days, my faith that most of humanity is okay was restored just a little bit, and for a while, I let apocalyptic anxiety be replaced by the much-more-welcome stress of sports.
Anyway, Mexico won 2-1. They dominated a depressing, wind-dictated first half, out-hustling and outclassing an unconnected U.S. that could barely string more than a few passes together. Mexico scored once but could have scored at least thrice, and, to cap it off, certified American hero Tim Howard limped out with an injury, which somehow felt even more on-the-nose than those bald eagles who got caught in the storm drain.