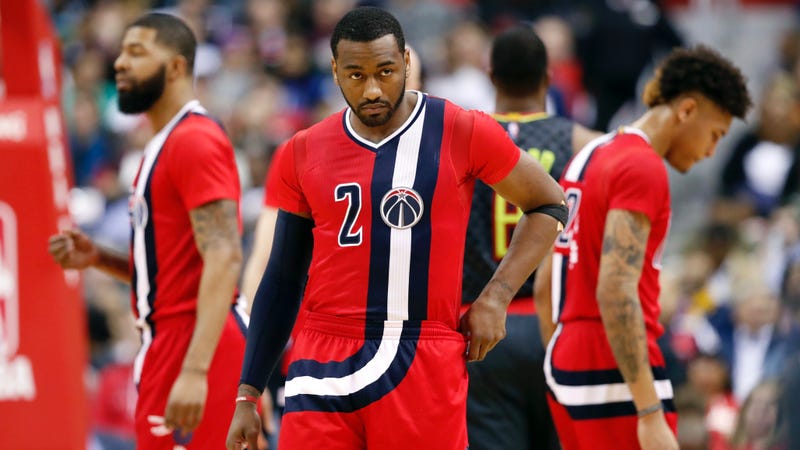 Here is how long the NBA season is: Long enough for the Washington Wizards to have gone from a bad team with a good starting five and an atrocious bench, to a good team with a great starting five and an atrocious bench, to a dark-horse Finals pick with a great starting five and a good bench, to a struggling team with a fatigued starting five and a good bench. That's too long! Particularly if you are a Wizards fan. Life is too long if you're a Wizards fan.

Coming into last night, the Wizards' starting five (John Wall, Bradley Beal, Otto Porter, Markieff Morris, and Marcin Gortat) had played over 300 more minutes than any other five-man lineup in the NBA. No other team has more than two players in the league's top 25 in total minutes played; the Wizards have four (Wall, Beal, Porter, and Gortat). If that's partly due to good luck with injuries—the Wizards' starting five is the only five-man group to have logged minutes in more than 54 games, and it has done so in 62—that doesn't change the fact that it's a lotta fuggin' work.
For the first half of Wednesday's game against the Hawks, the toll of that workload showed itself in a seemingly endless succession of shots clanging off the front of the rim, sloppy turnovers, and cheap reaching fouls. Atlanta's Tim Hardaway Jr., an unexceptional generic wing dude, looked like a straight-up superstar simply by virtue of having a lot more bounce in his legs than the guys defending him did in theirs.
It turned out okay for the home team: Washington's bench kept things competitive, Wall found some energy to burn, and that turned out to be enough to manufacture a win over a team utterly lacking players of genuine consequence. But it also fit a pattern—worse defense, worse shooting, shitty defensive rebounding, sluggish starts leading to frantic second-half pushes—that has emerged since the All-Star break, and points to the possibility that Washington's starters are just worn out.
Even if there are explanations less depressing than "Their least horrendous backups for like three months were Trey Burke and Jason Smith" for why the Wizards have leaned on their starters so heavily—the need to adjust to a new coach, say—this is not ideal! There's a reason the league's controversy of the moment concerns its most successful teams giving their best players whole nights off, after all. However fervently anyone may wish to believe that Every Game Counts, the Warriors would rather have a fresh Steph Curry in May than a road win over San Antonio in March. A sexy playoff seed doesn't mean much if you have to kill your best players to get it.