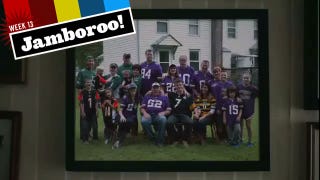 Drew Magary's Thursday Afternoon NFL Dick Joke Jamboroo runs every Thursday during the NFL season. Email Drew here.
You're gonna be watching a whole lotta football this coming weekend, and when you watch those games, you're probably gonna see this shitty ad for the NFL Shop, which has been running ever since the season started:
I am a Vikings fan, but I think I can say objectively that this is the worst fucking family in the universe, fictional or otherwise. Let's go through the narration to get at the root of the suck …
"We started out as a Vikings family."
Yes, you did. And you should have STAYED that way. That is how being a fan fucking works. You pick your team, and that is your team for life. If you were dumb enough to pick the Vikings, tough shit. You are saddled with Teddy Bridgewater overthrowing guys wearing his Hamburger Helper gloves whether you like it or not.
"Until my son Brendan met Sarah, from Philly …"
Look at Brendan. No way he gets Sarah. He's a pasty schlub and she's a smoking hot Unicorn Sports Gal Bartender. I can't believe an ad LIED to me.
"… got married, moved to Cincy, and had Bengal babies."
What the fuck? Why are they Bengal babies? Neither Brendan NOR Unicorn Sports Gal Bartender like the Bengals. Did they just move to Cincy and were like, "Well, we're here. Guess these little fuckers have to like Andy Dalton now." Maybe Sarah's parents are Bengals fans. Maybe they moved there for the free day care and her domineering father demanded her little girl raise those kids as members of Who Dey Nation or something. Maybe that's why Sarah became an Eagles fan in the first place. She got fed up with dad, fled to Philly, became a licentious drunken Philly fan, and ended up settling with some pud of a Vikings fan. I bet she thinks of running away every single day.
"Then my daughter Julie met Emmitt Smith and never let us forget it!"
Really? Well then, get FUCKED, Julie. All it took was one selfie with Emmitt and now you're a Cowboys bandwagoner? What is wrong with you? And you're BRAGGING about it? I would not invite Julie to Thanksgiving dinner. I would cut her out of the will. See if your new bestie Emmitt will invite you over this year, lady. Maybe he'll serve you turnkey and snuffling.
"And after years of eating Roethlis-Burgers, my son Dan became a fan of the guy too!"
Dude, did these people even like the Vikings at all to begin with? They can't WAIT to find new asshole teams to root for. My God. You ate a bunch of hamburgers and now Big Ben is your hero? You know about the rape allegations and his gray penis and all that, right? Or was the burger all that mattered to you? DURRRR DIS TASTE GOOD GUESS I'M A YINZER NOW SIX-BURGH KISS THE RINGS DURRRRR. And fuck your hair.
"And that's how my Vikings family became a Viking/Bengals/Eagles/Steelers/Cowboys family …"
Look at Julie! She's wearing a Vikings jersey and a Cowboys hat! FLAG! I CALL A FUCKING FLAG ON THAT OUTFIT! Only Snoop Dogg is allowed to get away with this sort of thing.
I hate this family. I hate this ad. It was clearly dreamed up by some hideous art director who was given implicit instructions to showcase a sociopathic family tree of people abandoning their original team just so they can gobble up more expensive crap at the NFL Shop. The NFL wants you to be a fairweather fan so that you watch more games and pull a Laura Quinn with your jersey every chance you get. It's sickening, by God. And you know what the worst part is? The mom is HAPPY about this. She thinks this is the greatest thing that has ever happened to her family. Can't she see the forest for the trees? Can't she see that she is barely holding together a loveless collective? I bet Brendan and Julie and Dan LOATHE each other and spend every Thanksgiving staring their phones so they don't have to talk to one another.
And of course they had to use my favorite team as the focal point for this exodus. It makes sense, since Vikings fans are horrible (last week's game was probably 80% Packers fans, and those people probably all lived close by). But I already knew that. The NFL Shop didn't have to go twisting the knife by holding up these smug losers as some kind of Normal Rockwell Footbaw family ideal. They didn't have to go flaunting the transitory nature of shitty Vikings fans all across national television. You hurt me, NFL Shop. You hurt my essence. No gravy for you this Thanksgiving. That family can go to hell.
The Games
All games in the Jamboroo are evaluated for sheer watchability on a scale of 1 to 5 Throwgasms.
Five Throwgasms
Seahawks at Niners: I'm not sure there's ever been a better slate of games for a single NFL weekend. Frankly, it's almost too much. I have grown up with shitty Thanksgiving Day games my whole life. I have pissed and moaned about the Lions always being involved, just as everyone else has. I think the only memorable Turkey Day games I've seen are the Leon Lett game, Randy Moss single-handedly beating the Cowboys, and probably something cool that Barry Sanders did.
But today's lineup has me rethinking those complaints. I kind of NEED Thanksgiving Day football games to be shitty. There is too much food and too many relatives around for me to digest these games properly. I wanna graze on football. I need a shittyass football game on the TV so that I can escape down to the basement every once in a while, but I can't be tied to that game for four hours, man. People notice. I can FEEL them detect my absence from the living room. Where is Drew? In the basement, eh? ANTISOCIAL LAYABOUT. We're gonna become a Cardinals/Eagles/Packers/Texans family to spite him! Ever turn on a TV in the middle of a party room and have everyone look at you like you're a dick? Unpleasant.
Broncos at Chiefs: The Eric Berry cancer story is terrifying because a) Eric Berry is awesome and people like him a lot and I very much wish him a full recovery, and b) It serves as a reminder that you can be a young, healthy, world class athlete and cancer STILL won't give a shit. You should get a lifetime pass from cancer if you're in the kind of shape that Eric Berry is in. It's not right that you train and lift 500-pound weights over your head and calibrate your food and drink intake to the nearest microcalorie, and then doctors can still be like, "Hey, there's a bunch of cancer in your chest!" That's crap. Cancer is just so damn rude.
By the way, Emmanuel Sanders "came back" from a concussion just a week after getting his head mashed in against the Rams. And even though we've had our big National Discussion about head ouchies in football, it's amazing that TV people will still roll along with these quick comebacks like it's nothing at all. (Saying you've come back from a concussion is in itself insidious because concussion damage is irreversible.) They never say, "Well, that's kinda messed up that he's back." They just happily buy into the idea that everything is hunky dory now. He healed up that brain booboo real quick!
Patriots at Packers: I hate both these teams, but if this ends up being your Super Bowl, I can't really complain. That would be one kickass Super Bowl. Why, you could invite your whole Patriots/Packers/Steelers/Yankees/Red Sox/Duke family over to watch it. My hope is that the score is tied 50-50 just as the comet hits. That's my dream scenario.
Eagles at Cowboys: No offense to Andrew Sharp but you Cowboys fans out there aren't allowed to play the fatalist card.
You have five rings. Stop acting like you're star-crossed. "I can't believe the Cowboys are good!" Yes you can. Twenty years ago, they beat the shit out of everyone. You were there. You saw it. You are not adorable. Don't go pretending the league's most valuable franchise is the nerdy girl turned Prom Queen.
Four Throwgasms
Bears at Lions: I was watching the Bears play the Vikings a couple weeks ago and it's amazing how much announcers HATE Jay Cutler. Like, they can barely veil their contempt. And announcers usually love everyone. They'll blow smoke up any player's ass. But not Cutler. Rich Gannon was the announcer two weeks ago, and he spent the entire game dying to call Cutler a pussy. It's riveting television. I'll watch any Bears game for this reason.
Three Throwgasms
Saints at Steelers: I hate to tell you this, but New Orleans only has one winning opponent left on the schedule, and the Steelers are it. After that, it's nothing but the Bears and the rest of the NFC South. And while the Saints are horrific (Sean Payton has suddenly become the worst play caller in the universe), they can probably still scrounge together seven wins and run away with the division (the Falcons, meanwhile, have to deal with the Cards, Packers, and Steelers all in a row).
If people are really rooting for CHAOS (NOTE: rooting for chaos is a leftover symptom of BCS hatred), you gotta have a ten-loss team make the playoffs, because they've already had a nine-loss team make the playoffs and everything turned out fine. You need a 6-10 team hosting a playoff game to get the competition committee to be like, "Jesus, this is fucked."
Cardinals at Falcons: I am cooking the turkey this year. I took on that duty voluntarily, even though the Cajun Boy has pointed out that you can buy a fried turkey from Popeye's for Thanksgiving. When tonight rolls around and I'm straining out a shitload of gravy, I'm gonna regret not getting that Popeye's turkey. There's no way that turkey is not good. I bet they grow their frying turkeys in a lab beaker.