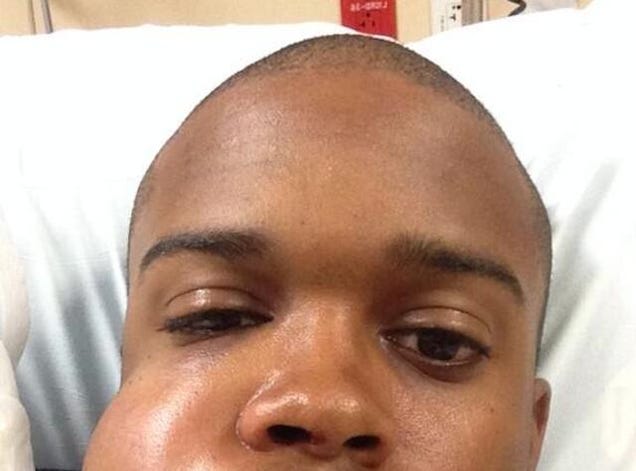 Astros prospect (and son of the former major leaguer) Delino DeShields, Jr. took a 90-mph fastball to the face last night during a game in Frisco, Texas and now his face looks like this:
Shoutout to my brother for taking a 90mph fastball to the face like a champ. Looking good Delilah @LinoDeShields pic.twitter.com/Gy1kGakEKE

— Tanner Case (@ctcase10) April 19, 2014
Cripes! That looks godawful. Here, have another look.
Woke up praying for my brother. He got hit in the face last night by a 90mph fastball 😫😫😫😫 #DeShieldsStrong ✊ pic.twitter.com/iSalGb7ygL

— Diamond DeShields (@DDeShields23) April 19, 2014
[Shudders.]
DeShields was playing for Houston's Double-A squad from Corpus Christi when he was hit in the face and, amazingly, walked off under his own power. According to Astros GM Jeff Luhnow, DeShields was diagnosed with a non-displaced maxillary sinus fracture. He is scheduled to be further evaluated today.