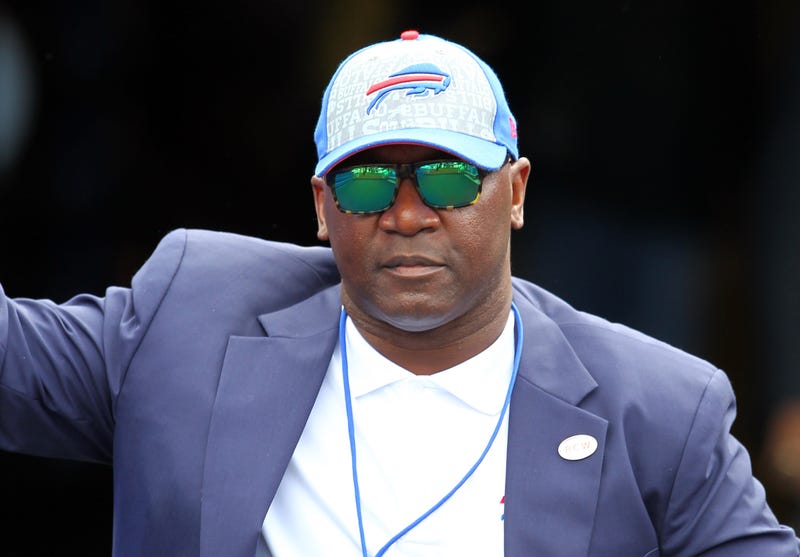 Hall of Fame Bills RB Thurman Thomas had never before spoken publicly about his concussions, or what he believes are the after-effects: mood swings, confusion, memory loss. He says a doctor told him his frontal lobe looks like "someone who has fallen off the top of a house, on to the front of his head, or going through a windshield of a car several times." But even that, the doctor said, was "decent...for an NFL football player" who played for 13 years.
Thomas made the reveal at a concussion summit in Niagara Falls, Ontario, where he also told a story about his longtime QB Jim Kelly taking a hit to the head and becoming completely unable to call plays.
Thomas said he remembers one game when his Bills teammate, quarterback Jim Kelly, "got the crap knocked out of him."

He said Kelly called the same play five straight times, handing the ball off to Thomas each time.

"I actually looked at Jim, he had this look in his eyes like, 'I'm getting ready to call the same play again.'"

Thomas said he looked to the Bills sideline and motioned for back-up quarterback Frank Reich to get ready to possibly enter the game, but head coach Marv Levy called a timeout.
Thomas, 49, doesn't sound angry about deteriorating mental health, and he doesn't blame the NFL, saying there simply wasn't awareness about head trauma when he played. (That's debatable.) He wasn't one of the plaintiffs in the class-action lawsuit against the NFL, and he allows his son to play youth football—even though his wife wants the boy to stop.