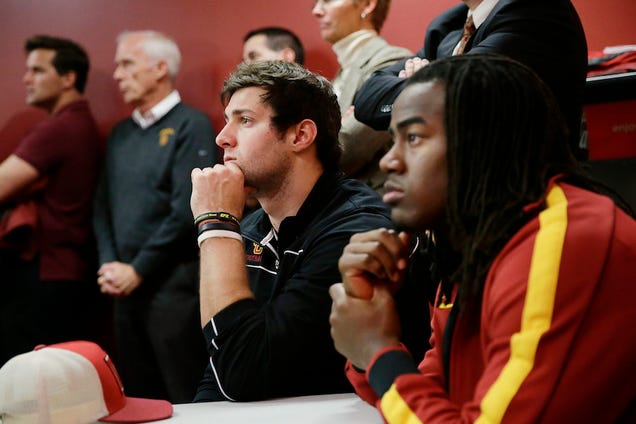 TMZ's headline says "USC's Josh Shaw—Named In Burglary Report," but the takeaway is that police talked to Shaw about a report of a guy climbing down the side of a building Saturday night.
Per the report, someone tipped off police that a person was "shimmying" down the side of a building in Los Angeles near the USC campus. Cops talked to a woman who lived in the building, and she turned out to be Shaw's girlfriend. She told police that the description of the "shimmying" dude sounded like Shaw. Cops contacted Shaw by phone; he denied being at the building.
Earlier today, the LAPD gave a statement on the essential impossibility of ever truly knowing anything:
LAPD statement on Josh Shaw: ``We've got no record of us having a run in with him. That's not to say something didn't happen.'' #USC

— InsideUSC (@InsideUSC) August 26, 2014
Statement cont. ``We have no record of anything happening.''

— InsideUSC (@InsideUSC) August 26, 2014
The USC defensive back, for his part, initially said that he sprained both of his ankles while saving his 7-year-old drowning nephew Saturday night. This morning, head coach Steve Sarkisian said the story's legitimacy was being investigated. Know more? Get at us at tips@deadspin.com.
[TMZ]
Photo: AP