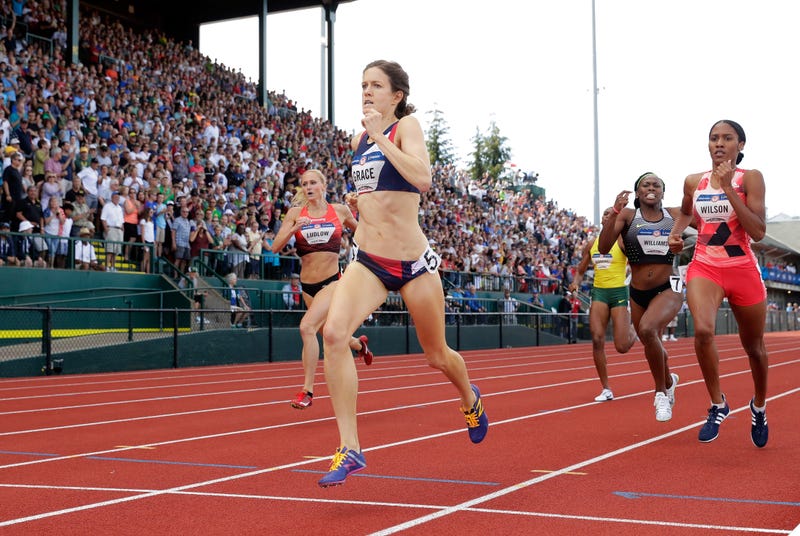 Eugene, Oregon is a picturesque college town, sparkly with streams and framed by dark pine-forested hills, with a population equal parts public radio, Dick-and-Perry-with-a-snort-of-Eminem, and hippie. The U.S. Olympic Track and Field Trials are happening there right now—bands of backward cap-wearing dudes are skimming along 24th Avenue shirtless, exceptionally fit people are walking very slowly, and public stretching is the order of the day. On three different occasions within the first two days, I saw a runner dash into a cafe, jog through tables, jump into a restroom, and burst out at a trot. (I didn't have a clock on him, but I'd hazard less than a minute, hand washing questionable.) Not a single diner looked up. This is Eugene. TrackTown USA.
Most importantly, we have freshly crowned Olympians. Six days of the ten day track and field extravaganza are in the books, and about half the finals have been contested. Most of the athletes, who have been busting it in relative poverty and obscurity with rewards few and far between, seemed a little shell-shocked standing on the podium, holding their flowers and flag. Here are the Olympians so far, with four more days of competition ahead:
Women's 100 Meter: English Gardner, Tianna Bartoletta, Tori Bowie

Women's 400 Meter: Allyson Felix, Phyllis Francis, Natasha Hastings
Women's 800 Meters: Kate Grace, Ajee Wilson, Chrishuna Williams
Women's 10,000 Meters: Molly Huddle, Emily Infield, Marielle Hall
Women's High Jump: Chaunte Lowe, Vashti Cunningham, Inika McPherson
Women's Long Jump: Brittney Reese, Tianna Bartoletta, Janay DeLoach
Women's Discus: Whitney Ashley, Shelbi Vaughan, Kelsey Card
Women's Hammer Throw: Amber Campbell, Gwen Barry, Deanna Price
Men's 100 Meter: Justin Gatlin, Trayvon Bromell, Marvin Bracy
Men's 400 Meters: LaShawn Merritt, Gil Roberts, David Verburg
Men's 800 Meters: Clayton Murphy, Boris Berian, Charles Jock
Men's 10,000 Meters: Galen Rupp, Shadrack Kipchirchir, Leonard Korir
Men's Pole Vault: Sam Kendricks, Cale Simmons, Logan Cunningham
Men's Long Jump: Jeff Henderson, Jarrion Lawson, Marquis Dendy
Men's Shot Put: Ryan Crouser, Joe Kovacs, Darrell Hill
Men's Hammer Throw: Rudy Winkler, Kibwe Johnson, Conor McCullough

Men's Javelin: Cyrus Hostetler, Curtis Thompson, Riley Dolezal
Men's Decathlon: Ashton Eaton, Jeremy Taiwo, Zach Ziemek
Being in Eugene is like drinking from a firehose—there is so much going on it's impossible to keep up with it at all—but here are some thoughts so far.
---
Molly Huddle turned the screws on the last of 25 laps, all the while looking composed, like she could have welcomed guests and served tea in her lovely home only moments afterward/Hayward . It was beautiful. I stood and added my voice to the roar.
---
I wish Galen Rupp had Meb Keflezighi's personality, but that might crack the universe—too perfect. Wooden as he is in interviews, he's a thing of beauty on the track. Go to 1:40 to see Rupp's opus.
---
You'd be hard pressed to slip a piece of paper under my feet when I jump, so high jump fascinates me. Watch this and know that 32-year-old high jump queen Chaunte Lowe has three children and is a fine dancer.

Women's high jumpers are the soccer players of track—tatted, expressive, outre. Check out Olympian Inika McPherson, the only ear-plugged, ink-kissed 5'4" woman to ever clear 6 feet 6 inches.

---
The once-every-four-years Trials provides closure for some. Top athletes deal with setbacks, bad races, and injuries all the time. Having the mental strength to work through those hard times is—as much as talent—the factor that separates the great from the good. But that perseverance also makes it difficult to know when to stop. Plenty of athletes face the music in solitude and hang up their shoes without so much as a tweet.

If you're 2012 gold medalist Sanya Richards-Ross, you pull up in the first round of the 400 meters at the Trials, receive a standing ovation from the Hayward Field fans, and make a going-away speech. The 400 meter legend has been posting world-class times since 2002, when she was only 17 years old. A gimpy hamstring was the last straw, she said, and while she regrets not making another Olympic team, she said she feels blessed and hopes, "people saw that little bit of God in me every time I stepped on the track."
---
Allyson Felix steps into Sanya Richards Ross's 400-meter shoes. Having won about all there is to win at 200 meters, the very recognizable Felix overcame injuries to win the one-lap race in a personal best and world leading time of 49.68 seconds. This, after posting on Instagram on June 30: "ONLY by the grace of God I will walk to the starting line tomorrow. Undoubtedly, this will be the hardest team I try to make." She said later she feels 400 meters might be her best event.

---
Entrepreneur, author, activist, and 800 meter specialist Nick Symmonds scratched before the qualifying rounds of the 800 started due to a ligament strain in his ankle. The 32-year-old, who has been racing at the top of the sport for ten years, said he's done competing this year. His sponsor, Brooks, has the option to renew his contract in 2017, and he made sounds that indicated he'd compete in 2017 if they exercise their option. But in essence, this is his swan song.