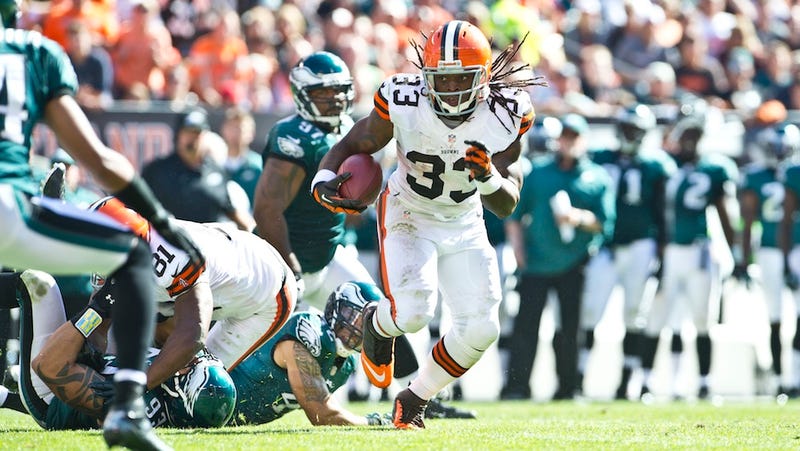 Browns running back Trent Richardson says to blame him for the new "crown rule," which bans ballcarriers from leading with their helmets, and he sounds proud of it.
"People keep telling me it's the T-Rich rule," he said. "I guess I made history today."
At the NFL meetings, before the owners voted 31-1 in favor of penalizing runners for lowering their heads into defenders, they were shown a video full of examples of what would now be eliminated. It featured, among other plays, Richardson dropping his shoulders and launching Kurt Coleman's helmet in the air like a popcorn kernel:
"That hit made me a hero with Browns fans, but that was just me playing football," Richardson said. "That hit made history right there and it was big."
Richardson's happy to take credit, but the rule change isn't as much about him as about the mindset that finds glory in that style of play. The NFL isn't scared of Trent Richardson hurting someone. It's scared of Trent Richardson, and what he'll do to the league if he becomes Earl Campbell.
If Richardson is a poster boy for today's safety-conscious league, Cambell is a perfect proxy for the half-century of the NFL characterized by an abject violence fetish. The era was born with NFL Films slow-mo collision porn, and entered its terminal decline with the death of "Jacked Up." (ESPN still succumbs to the bloodlust from time to time. And when we get a "clean" hit with a similar effect, we all go nuts. It's perfectly natural to love big hits, and nothing to be ashamed of.)