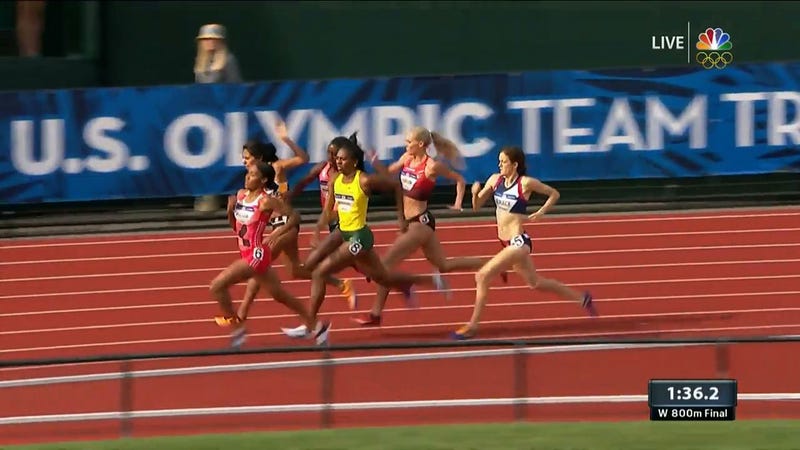 What the heck is that, above? It's years of 24/7 grind going down the tubes in a hundredth of a second. It's dreams dying and being made. It's bad luck and dumb luck. And according to USA Track & Field, it's incidental contact. It's the sport of track and field.

Last night at Eugene, Oregon's Hayward Field—site of the U.S. Olympic trials—eight women were 650 meters into the final of the 800 meters, switching gears from organ-meltingly fast to flat out, do or die. The top three finishers would become Olympians, representing the U.S. in Rio next month. Five would have to start making other plans.
What you see is Brenda Martinez (on the outside, hand up, between the L and the Y) tangling with Alysia Montano (in the pink, partially obscured by the runner in yellow). In a blink, Montano went down hard and Martinez stumbled into lane four. Ahead of the fray, Ajee Wilson (in red) powered into the home stretch, Raevyn Rogers (in yellow and green) hugged the rail and carried on at speed, Molly Ludlow (in the red on the outside) somehow managed to hurdle Montano and avoid Martinez, and full-flight Kate Grace (in the back) avoided Montano and was suddenly presented with open track. Out of the shot were Chrishuna Williams and Phoebe Wright.
Here's the full video, with the trip occurring at 1:38:

Twenty-four seconds later, the 800 meter Olympic team was decided. Kate Grace, who won in 1:59.10, Ajee Wilson, who ran the fastest 800 in the world in 2014, and a happy but stunned Chrishuna Williams, who two minutes earlier was a long shot at best. With Montano staggering to the finish line and collapsing in tears, and a packed stadium cheering only hesitantly, the victory celebration was confused and muted.
Martinez immediately walked off the track and, while struggling with emotion, said in the post-race interview that she was clipped from behind, but ultimately, these things happen in track and field.

Things have never been handed to Martinez. Growing up in gritty Rancho Cucamonga, California, her parents put five-year-old Brenda in the local track program to keep her out of trouble. The coach of that program, Carlton Austin, remembered Martinez as a fighter: "She was never the best athlete—there were a lot of girls faster—but she had the three Ds—desire, determination, dedication. If anyone was going to beat her, they'd have to do it again and again because she would keep coming back."