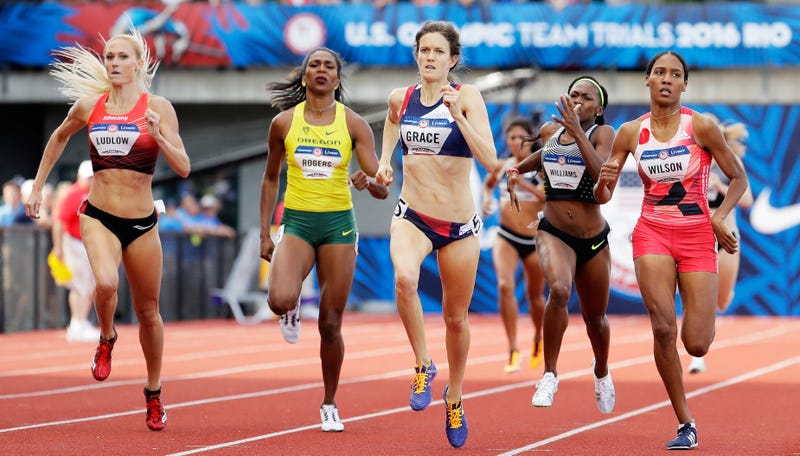 The trouble started for Kate Grace, winner of the U.S. Olympic Trials 800 meters, and her sponsor, apparel company Oiselle, when Oiselle posted these photos on their Instagram account.
Sally Bergesen, CEO of Oiselle, told the Orange County Register that she received an email from the U.S. Olympic Committee informing her that the posts violated USOC trademark guidelines, requesting that Oiselle to take down all images of Grace and other Oiselle athletes competing at the Trials. The USOC official, Carol Gross, asked that Oiselle stop all "Olympic-related advertising" and take down images by "close of business" Wednesday, July 6.
"This is about USOC's intellectual property, ownership of the terms Rio, Road To Rio, the rings—all of the branding they use," Bergesen said by phone. "By using the caption 'She's heading to Rio' and showing the branding [#RoadToRio, Olympic rings] on her bib, which is ironed onto her Oiselle top, they're saying it's akin to creating advertising, that we're making it look like we're part of Team USA and doing Olympic advertising. They're saying that our reporting is advertising; we differ with that."

Bergesen contends that Oiselle is simply reporting on an athlete they've sponsored for the past five years. With Olympic, USA Track & Field, and Nike (the only sportswear company that is an official USOC sponsor) logos plastered around Hayward Stadium and on the bib athletes are required to wear, Bergesen said there's no way to take a picture of an athlete without including some USOC branding.

The offending images remain on Instagram and Oiselle's Twitter page—one day after the USOC's deadline—though Bergesen blogged that in the remaining four days of races, USOC trademarked images would be blurred out of photos and words like Rio, Olympics, and Olympian would not be used. She directed followers to individuals in the Oiselle community for updates and pictures, as USOC restrictions only apply to businesses.
Bergesen said Oiselle's legal counsel is talking with the USOC today because they don't want to capitulate to USOC's "bullying" without legal clarification. She said she was not sure if other sponsoring companies with athletes at the Trials had received a similar request from the USOC, but felt the USOC was being "extremely aggressive" toward Oiselle in particular.

Bergesen has been a vocal advocate for the right of athletes to recognize the non-USOC companies that spend tens of thousands of dollars to support day-to-day training, that allows them to compete in the Trials in the first place. This isn't her first dance with the USOC on this issue: she ran up against their rules during the Olympic Marathon Trials in February.