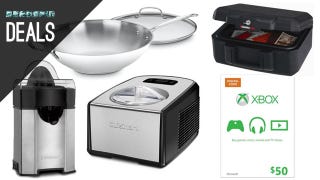 We haven't found evidence of any particular promotion, but several highly-rated Cuisinart kitchen appliances are down to their lowest prices ever today.
Cuisinart ICE-100 Compressor Ice Cream and Gelato Maker ($212) | Amazon
Cuisinart 726-38H Chef's Classic Stainless 14-Inch Stir-Fry Pan with Helper Handle and Glass Cover ($25) | Amazon
Cuisinart CCJ-500 Pulp Control Citrus Juicer ($21) | Amazon
Cuisinart CBK-100 2-Pound Programmable Breadmaker ($71) | Amazon
Cuisinart DFP-14BCN 14-Cup Food Processor ($136) | Amazon
---
Get these deals and more, and earlier on Deals.Kinja. Connect with us on Twitter and Facebook to never miss a deal, check out our Gaming and Movie/TV release calendars to plan your upcoming free time, and join us for Kinja Co-Op to vote on the best products. Got a deal we missed? Post it in the comments with a link and we'll share right to our Deals homepage.
---
A good fire chest is essential for protecting important documents and irreplaceable keepsakes, and this highly rated SentrySafe model is only $16 right now. Whenever we post these, they tend to sell out quickly, so act fast. [SentrySafe 1200BLK Fire Chest, $16]
Update: ...and it's gone. If you missed out, be sure to follow @KinjaDeals. You would have seen it earlier this morning.
---
Amazon's #1 selling electric toothbrush has sleek black looks, a pressure sensor, an automatic timer, and a $30 coupon. [Oral B Precision Black 7000 Toothbrush, $106 after $30 Coupon]
---
If you own an Xbox, here's a no brainer for you. $45 gets you a $50 Xbox gift card, plus two free movie tickets (up to a $26 value total) to use through Fandango. [$50 Xbox Gift Card Plus Two Free Movie Tickets, $45 with code EMCPBHW24]
Update: The movie tickets part of the offer is expired, but you can still get the $5 discount.
---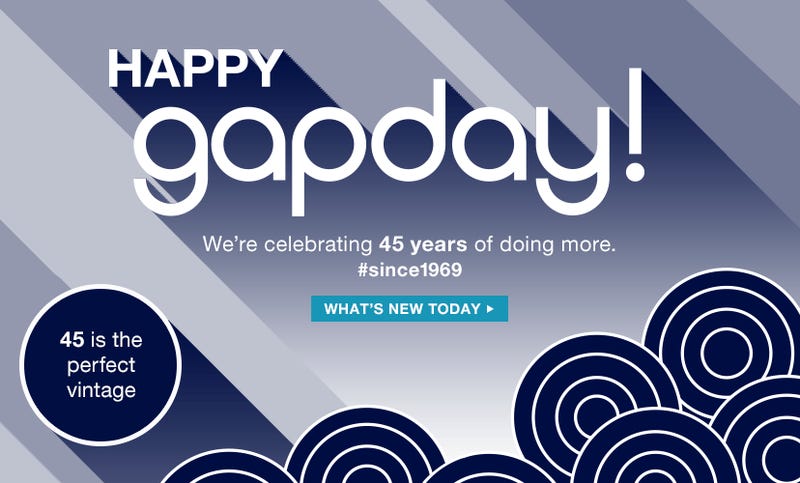 We don't often give apparel deals top billing here, but $45 off any $100 order at Gap is definitely worth highlighting. [ $45 off a $100 Purchase, promo code BDAY]
---
Amazon's Fire TV is a legitimately great streaming box, if a tad expensive. Today though, it's a little easier on your wallet. [Amazon Fire TV, $85]