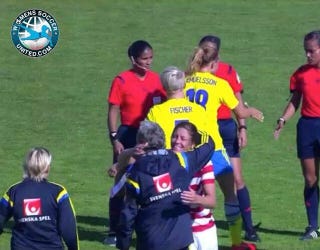 The US women's soccer team lost to Sweden today, 1-0, in Portugal's Algarve Cup. It was vengeance for the Swedes on a few of levels. For one, the USWNT's streak started with a 2012 Algarve Cup victory over Sweden. Our ladies' coach way back then? Pia Sundhage, who has since left the Yanks to coach her home country—Sweden.
The Algarve Cup is Portugal's annual tournament, and one of the more important women's international contests, on that second tier behind the World Cup and the Olympics. The Americans win this thing almost all the time—our nine titles are the most in the tournament's history—but this year we're out early. The Sweden match was only the second in group play but our 1-1 draw with Japan earlier in the week means the best the USWNT could place is second—eligible only for the 3rd place game.
The USWNT fielded a strong side, full of the regular internationals you'd expect had this been the World Cup. The big absences were up front, with both Alex Morgan and Sydney Leroux unavailable to play due to injury and illness, respectively. Abby Wambach's penalty, which that would have given the US an early lead, was saved and the US women couldn't convert any of the myriad other chances they created into goals.
Sweden are no slouches, though, so it's not terribly surprising that they came out on top today. They are ranked the sixth best women's national team, host one of the stronger women's leagues, and now have the aforementioned Sundhage—an all-time great soccer coach—back to lead her countrywomen. The move was a long time coming. Sundhage often stated her desire to coach her own country at some point even when in charge of the US. After winning gold with the USWNT in the 2012 Olympics, thus avenging their loss in the 2011 World Cup, the Swede felt the moment was right to make the switch.