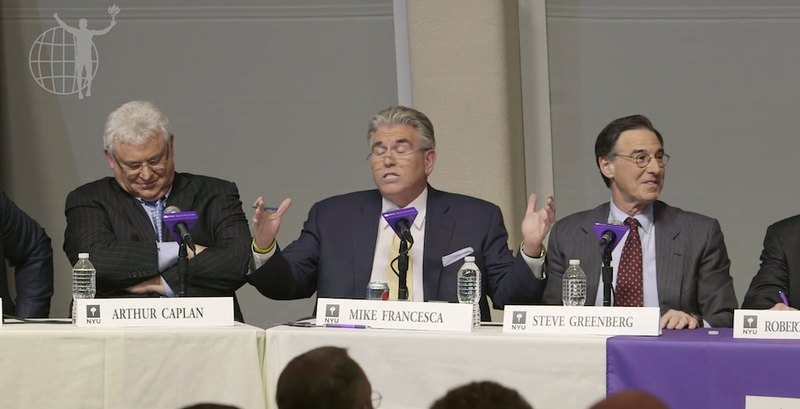 "Say something, please!" Mike Francesa shouted out to the audience.
It was a little after 7 p.m. on Monday night, and Francesa didn't like just how quiet the room was. He was on the 10th floor of New York University's Kimmel Center to speak on a panel about sports, ethics, and integrity along with a dozen other people. When Francesa, along with his fellow panelists and a moderator, made their way into the room, it quieted down just a bit, mostly out of politeness. Francesa didn't like it.
"Somebody!" he pleaded.
Everyone kept quiet and Francesa took his seat, behind a place card that spelled his name "Francesca." His signature Diet Coke was waiting for him, as was a microphone, which he would of course later pull from its stand in a fit of excitement.
Francesa's had an incredible week. This event was two days before Francesa landed the scoop of the month with the in-studio A-Rod interview. The Daily News came after him, saying he was too cozy with A-Rod. His longtime buddy, Chris Russo, did the same. "I can't understand. Mike is smarter than this, to be duped by A-Rod and fall into this trap," the Mad Dog said. Francesa's been under siege lately. When that happens, he comes out punching.