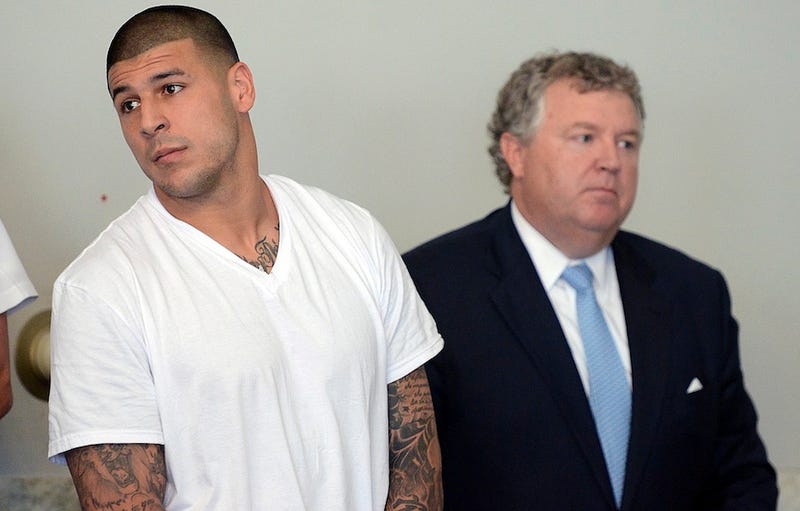 Aaron Hernandez's apartment was searched last week and turned up goodies like ammunition, paychecks, and the hooded sweatshirt Hernandez was allegedly wearing on the night of Odin Lloyd's murder. But here's a twist: an affidavit for the search warrant cited cocaine.
Both the Globe and the Herald have obtained documents relating to the search of an apartment in Franklin, Mass., roughly a 20-minute drive from Hernandez's North Attleborough home. Police were led to the apartment by Carlos Ortiz, one of the three men in the car with Lloyd.
In the apartment, cops found
A white hoodie "consistent in color and type with the sweatshirt that Hernandez is observed to be wearing on surveillance cameras the night of the homicide."
A red baseball cap worn by Hernandez to a nightclub on the Friday night before the murder. Prosecutors had previously said Hernandez's anger at Lloyd could have been sparked by an incident at that club.
Five boxes of .45 ammunition (the caliber of the shells found on Lloyd's body), five boxes of rifle ammunition, and one box of .22-caliber ammunition.
Keys to a brand-new Hummer registered to Hernandez.
Paychecks from the Patriots and Puma.
A bag from Kay Jewelers.
A valet receipt from the W Hotel in Boston.
A Western Union receipt.
A Hertz car rental agreement.
According to the Herald, an affidavit filed by a Massachusetts state trooper to obtain the search warrant made references to "the sale of cocaine," but further documents make no mention of any drugs found at the apartment. (Here's an explanation of what that might be about.)