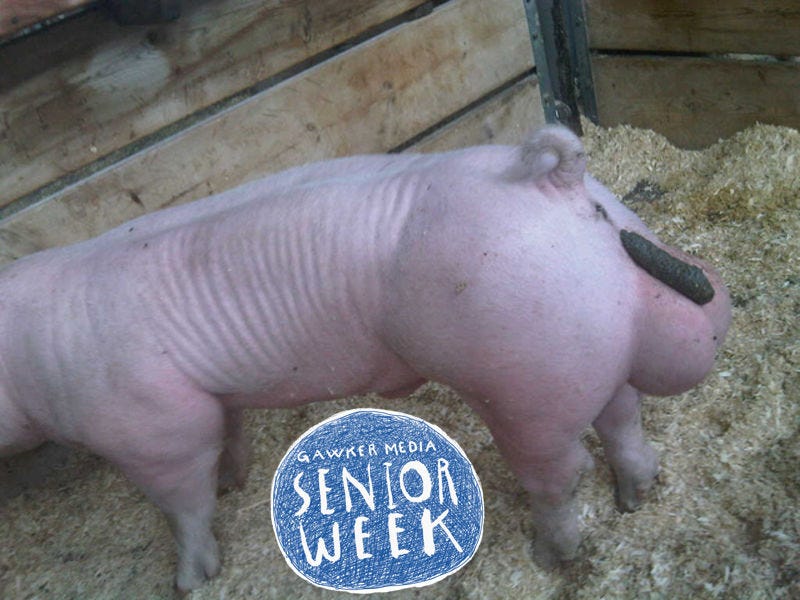 On Monday of this coming week, all of us at Deadspin will sit down at our computers and write blog posts about sports and other things. On Friday, we will do the same. In between, while we are blogging, our parent company, Gawker Media, will be sold by auction in bankruptcy court. This will end the company's 14 years as an independent media company and bring Deadspin and its sibling blogs under new ownership, most likely as part of some larger company. This should not be cause for concern for you, the reader: Eventually, inevitably, there may be changes, but the site has been through changes before, and these could be changes for the good, for all we know. That said, this does mark a transition, and so our editor-in-chief sent out the email below to friends and enemies of the site this week; it is followed by what he got back, in the order he got it.

These emails have not been edited save to take out a few things that someone operating in bad faith might take out of context.
Comrades—
As you may have heard, we fought the law and the law won; this is Gawker Media's last week as an independent media organization. I'm actually pretty confident that this is going to turn out fine—it's not like we're not used to dealing with the shifting and unknown whims of an erratic media overlord, and if, say, Outbrain buys the whole outfit as part of a move into the "content space," at least we'll know where we stand—but it'll definitely be a change, and even if it's not the sort readers in search of Draymond Green dick pics will be all that concerned with, it still feels like it's worth noting on the site.

To that end, I'd love to have something from all of you—our former staffers, our contributors, our friends, our enemies—as we go from working for one guy to working for someone or something else. My idea was that I would send this out to a lot of people who might have something interesting to say about the site and that we could run whatever they had to say as one giant post on Thursday or Friday, a few days before our fate will be determined in an auction.
I have no idea just what all you various and varying people might have to say, but one thing I'm clear on is that the idea here isn't to score anything to "Good Riddance (Time Of Your Life)." When the ship is going down, whether it's weeks or years from now, we'll have a somber and solemn remembrance of all the dong shots, purloined Hall of Fame votes, fake dead girlfriends, Arsenal stanning, excellent boxing writing, defenstrated mayors, ESPN exposes, and what not. For now, I'd be deeply in your debt for a graf or two (by, I don't, know, Wednesday?) talking about your favorite post no one read; or how I'm sitting on a piece of yours; or how you're glad when bad things happen to us because we wrote nasty things about you over a period of years; or how you were glad we flogged some issue; or how working with/for me, Tommy, A.J., or Will sucked; or how we fucked you, the working journalist, over; or whatever other Deadspin-related thing might be on your mind. I'd like to think of it as a celebration at which people who want to toast us and people who want to toast the idea of our death are equally welcome.
Also: please, please forward this on to whoever you think should be invited to send something on and whoever you think would like to see it. I'm sure I'm forgetting lots of people here, and worst case you send it on to someone who already got it. You know where to get me, and I love you all, except for those of you I genuinely detest.
Best,
TM
I miss pretty much everything about Deadspin except one huge thing: the hostility of Slack. But Slack did have some fine qualities, including and especially the fact that it facilitated a favorite game of mine: Tormenting my coworkers by casually mentioning that I eat, say, nachos with a knife and fork. Albert would go APESHIT. It was the best.
I actually eat a lot of foods that are traditionally eaten by hand using a knife and fork. It has to do very specifically with the fact that I have an aversion to feeling like there's anything underneath my fingernails. (You know who I am, so even though you may object to all of this philosophically, you do have to admit that you understand it on some level.) To mark this day in Deadspin history, I decided to compile an utterly incomplete list of hand-foods that I choose to eat with a knife and fork.
Also, I love you assholes. (You're still making the bed, right?)
An Incomplete List of Hand-Foods I Choose to Eat with a Knife & Fork*
*May substitute spoon
Pizza

Nachos
Chicken fingers, including Buffalo chicken fingers (I will not eat wings, to difficult to fork)
Hamburgers
Sandwiches, but NOT hot dogs: thus concludes that debate
Tacos, soft (I will not order hard tacos, due to their un-forkability)
Quesadillas
Mozzarella sticks
French fries, for the most part and always if they're topped
Onion rings, crucial to ensuring there is both onion and fried batter in each bite
Popcorn
Indian snack mix
Potato or tortilla chips that have been broken into a piece less than half their size
Bruschetta
Popsicles
Tim - You're a class act, right to the end. And that's ON the record. - mushnick
sorry to see you guys go.
Here's only the appropriate score:
A couple of years ago, I got an email from Tim Marchman, a guy I'd never heard of, about a book chapter I'd written. He asked if he could buy it for Deadspin, a website I'd also never heard of. Tim, Tommy Craggs, Deadspin's lawyer, my lawyer, and I waltzed around for a while, finally coming up with a way for them to publish the piece. It ran in April, 2014, and within a couple of weeks I had a movie option offer from Michael Medavoy's production company, two agents (literary and theatrical), two separate NPR features, a dozen radio and print interviews, and a longish segment in a sports documentary film. My reading audience expanded from a couple of hundred to (for a later piece) a quarter of a million people.
Without Deadspin and its editors, there's no way any of this would have happened.
Since that first piece ran, I've had agreements and disagreements with Tommy Craggs and Tim Marchman. Pieces have run and not run. Deals have worked and not worked. But full payment for articles (even the unpublished stuff) always arrived promptly. More importantly, regardless of whether things were working or not, my relationship with both Tommy and Tim remained collegial. Even as we were scuffling about individual pieces, they promoted me to people they knew, sent my writing to other editors, and made sure I got noticed.
Talk to writers who've published with online sites or in print magazines; you'll see what most of them have to say about their editors and the publications. Gawker and Deadspin did right by me. And Tommy Craggs and Tim Marchman remain my friends.
I'll always remember Deadspin fondly as the place I got my start, and busted my ass working nights and weekends making next to no money for literally years yet never got brought on full-time because it wasn't in the budget*, only to get another job and see it explode into a site where multiple full-time staffers were quickly hired to write about how to properly tie your dog's shoelaces, where to find the best deals on dog shoes, and occasionally sports. And! they got benefits like "medical insurance" and "having your taxes taken out of your paycheck so you don't owe the IRS thousands of dollars because you're the worst at budgeting and planning for the future." So, at the very least, working at Deadspin was a huge boon to my confidence.
I'll also remember it fondly for making this search in my personal Gmail account possible:
Loved you, Independent Deadspin
2 Good
2 Be
4 Gotten
*In all likelihood, this is totally the reason. I'm sure Craggs has never forgiven me for it. And rightly so, it is a bad, bad** blog and makes me cringe just to think about it.

**Still, fuck Gomes, though.
Deadspin was a great place to work if you were a young person who enjoyed being constantly told to "eat shit." Foodspin was the only redeemable thing about this dick-pic emporium until Burneko started writing about pianos.
I'll never forget my first week on the job, when Tommy Craggs asked me if I wanted to work a night shift, then told me I was "so fucked" after agreeing to help out. I eventually worked weekends for Deadspin during my senior year of college, so I'm pretty sure Marchman never read a single blog I wrote because he was too busy eating a bowl of gravel while performatively enjoying the uncomfortable heat of a sauna.
My favorite Deadspin memory is from my second-to-last day in the old office, when I asked everyone what I should order for lunch. Craggs suggested Parm, a hilariously overpriced (when making $8.00 an hour) sandwich spot in NYC. Tommy ordered some food too, and asked me how much he owed me. I said I would buy his lunch in exchange for a hug. He walked over to my desk, dropped $40 in cash on my keyboard and silently walked away.
Make no mistake, Deadspin is infinitely better now than it was 10 years ago, but Deadspin as it was back in 2006—Carl Monday!You're with me, Leather! Run, you stupid fucking dinosaur, RUN!—should be remembered as something truly ground-breaking. There was nothing else like it on the web. I know it showed this frustrated, mid-20s, low-level magazine staffer that there was another way into writing about sports, that stories living along the furthest margins had just as much value as the real, packaged-for-consumption thing we often accepted without question. For years, all I wanted to do was write for Deadspin.
Then I got my chance! I did one good blog. Almost everything else I did sucked, but I'll forever be grateful to Craggs for that chance. My whole career as I know it started at that point. I know that he and Will and AJ and Tim gave that same opportunity over the years to dozens of other no-name writers that you now read with regularity. Deadspin's fingerprints on the state of journalism today can never be fairly calculated because it's immeasurable. No matter what comes next, we would do well to never forget that fact.
And may that stupid fucking dinosaur never stop running.
The advantage I always had with Deadspin at Gawker Media is the same advantage Deadspin has always had at Gawker Media: Nick Denton has no idea what we're doing. I can proudly say that I have not one single bad word to say about Nick Denton. The reason I have not one single bad word to say about Nick Denton is because the entire time I was doing Deadspin, I didn't have a single meaningful professional interaction with Nick.

(Actually, that's not quite true. For about a month in the summer of 2005, Nick, Lockhart Steele and I spent about 15 minutes a day trying to come up with names for this stupid site, including the infamous "Tronball" before Nick finally just gave us Deadspin. I wanted to call it Benchrider.com. That was pretty much it though.)