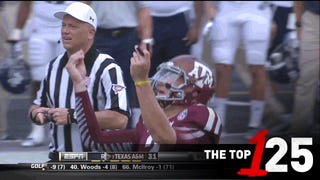 Each week during college football season we put the conventional polls to shame by ranking every FBS team from 1-125, by whatever standard we see fit.
1. ALABAMA (1–0). If you only caught the final score, you might be under the impression that Bama's 35–10 win over Virginia Tech was just another routine bludgeoning on the order of last year's opening-night romp over Michigan, or January's championship romp over Notre Dame, or any number of identically grisly spectacles by the most ruthlessly efficient killers in the game. But you'd only be two-thirds right: While the defense and special teams did their part to make sure the outcome was never in doubt, the offense—equally celebrated for a change after setting school records for yards and points in 2012—was a distant shadow of the machine we saw in January's BCS title game. Most of the lineup in that game was intact against the Hokies, with the glaring exception of three All-Americans on the offensive line who are now drawing large NFL paychecks. The drop-off up front was immediate and obvious against Tech's long-in-the-tooth defensive line, resulting in Alabama's worst game in terms of total offense (206 yards), yards per play (3.3), and first downs (11) since 2008. A.J. McCarron, the most efficient passer in the nation as a junior, finished with the worst rating of his career by a mile.
All that notwithstanding, we're still talking about a team that scored touchdowns on offense, defense, and special teams less than 16 minutes into the season. The revenge date at Texas A&M is two weeks away.
2. CLEMSON (1–0). Last week I was on the Tajh Boyd bandwagon; after the Tigers' 38–35 win over Georgia I am driving it. Boyd is a great college quarterback (and pro prospect) for all of the usual reasons, beginning with his uncanny accuracy as a passer. But he's a fun, likable quarterback because he is so oblivious to his own well-being: Unable to establish statuesque "poise" behind a shaky line, Boyd will pull the ball down to run in any situation, and he takes on tacklers like the fullback he would have been if he'd had the misfortune of playing 20 years ago. He's also the Tigers' go-to rusher in short-yardage situations and in the red zone. Combining the win over Georgia with last year's above-the-fold dates against Florida State, Virginia Tech, South Carolina, and LSU, Boyd has carried 97 times for 161 yards—a tenderizing average of 19.4 carries per game for 1.7 yards per carry. But he's also run for six touchdowns in those games, two of them coming Saturday against the Bulldogs, where his long run of the night covered 10 yards. He does a lot of dirty work, and as a result Clemson has never been better.
3. LSU (1–0). The Tigers lost eight draft picks from the 2012 team, plus four others who declared for the draft, and benched their leading rusher due to an offseason arrest, none of which made any discernible difference whatsoever in a 37–27 win over TCU. As usual, Les Miles had no trouble finding new bodies for the backfield (Alfred Blue and Terrence Magee combined for 184 yards on 5.8 per carry) or the defensive line, which was largely responsible for limiting the Frogs to 289 yards on offense; as usual, LSU completely controlled the tempo, amassing a 12-minute advantage in time of possession. Even the passing game came through, producing a pair of 100-yard receivers. The only complaint is the final score was much closer than it should have been—TCU returned a kickoff for a touchdown, and scored another after an LSU fumble inside its own 10-yard line—and the bizarre sequence in which TCU's entire team had to be called back from the locker room for an LSU field goal attempt at the end of the first half could have been much more chaotic and hilarious than it was.
4. OREGON (1–0). Feel free to ignore the fact that the Ducks ran 71 plays Saturday for 772 yards and 66 points in the first game of the post-Chip Kelly era, which is pretty much par for the course against the overmatched likes of Nicholls State. Pay attention to the fact that they did it while holding the ball for less than 20 minutes in time of possession.
5. FLORIDA STATE (1–0). Hyped redshirt Jameis Winston completed 25 of 27 passes Monday night for 377 yards and four touchdowns in the first start of his college career, a 41–13 blowout over Pitt. In the pantheon of opening-night performances against mediocre ACC defenses, this was Citizen Kane.
6. OHIO STATE (1–0). Urban Meyer called for two-point conversions after both of the Buckeyes' first two touchdowns against the Buffalo Bulls. Will this monster stop at nothing to satisfy his urge to bathe in the blood of the innocent?
7. TEXAS (1–0). Which Longhorns team do you prefer: the one that committed four turnovers on its first five possessions of the season against lowly New Mexico State? Or the one that proceeded to score five touchdowns on its next 16 offensive snaps en route to a school record for total offense? As always, reality is here to cater to your preconceived opinion, whatever it may be.
8. NOTRE DAME (1–0). Quarterback Tommy Rees passed for 263 yards and three touchdowns against Temple before halftime, a brazen slap in the face to Notre Dame tradition. (Rumor is that some of it was even produced from the scandalous "Pistol" formation.) Chastened, Rees returned to give the crowd its money's worth with an exhibition of tasteful handoffs in the second half, and was rewarded with both a not-too-decisive victory and a round of respectfully doffed caps from the gentlemen.
9. STANFORD. Cardinal didn't play Saturday, still gave up more points than they will in a handful of games this season.
10. SOUTH CAROLINA (1–0). I wanted to believe in the legend of Jadeveon Clowney very badly, but this was not hard to see coming: After eight months of being fed a narrative that billed Clowney as equal parts Grendel and Paul Bunyan, viewers would inevitably be disappointed to discover that the freak is but a mere mortal, and ESPN obliged by devoting much of the second half of South Carolina's 27–10 win over North Carolina to Clowney's apparent fatigue. ("The beast appears to be having difficulty breathing our air!") While failing to devour Tar Heel QB Bryn Renner whole, however, Clowney was a key part of a defense that held UNC to 10 points on 293 yards of total offense, more than 100 yards worse than its worst performance in 2012. How long do they have to keep that up before it's a bigger deal than Clowney's personal sack total?
11. OKLAHOMA STATE (1–0). At one point in the Cowboys' 21–3 win over Mississippi State, the announcers related the story of how OSU head coach Mike Gundy found his new offensive coordinator by literally conducting an Internet search in his office, which explains a lot. After averaging well over 300 yards per game through the air from 2010-12, the Cowboys racked up nearly twice as many yards on the ground against MSU—286 rushing to 146 passing—the first time they've failed to pass for 200 since 2009. Quarterback J.W. Walsh led the way with 125 yards rushing, and it looks like they're going to let him keep on running, much to the chagrin of his backup's family.