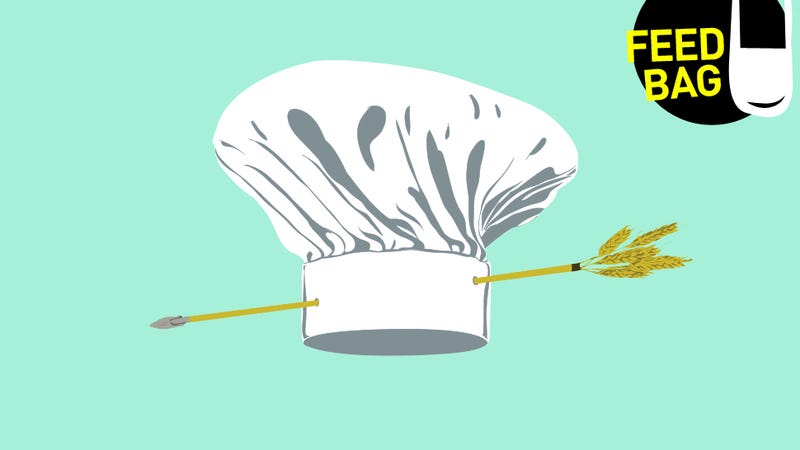 Welcome to the Feedbag, where all the dumb questions about food, drink, cooking, eating, and accidental finger removal you've been embarrassed to ask can finally receive the berating they goddamn deserve. Also: answers. Send all your even-vaguely-food-related questions to albertburneko@gmail.com with the subject "Feedbag." All of them.
Lori:
My question - what the heck do I make for a potluck I'll be attending in a few weeks? The problem is that we're an even mix of carnivores, vegetarians, and some gluten allergens.

The other problem is that I love everyone and want to bring something to share with everyone, but the Venn-diagram of things everyone can eat encompasses lettuce and wine. We can't even have beer! What would you recommend I bring? Should I just bring something for me and mine and screw anyone who can't eat it?
Hang on a second. Let's clear something up, first. According to all reliable studies, wheat allergy (the gluten allergens to whom you refer) and celiac disease (the autoimmune disorder that causes some people to have an adverse inflammatory reaction to certain gluten proteins) are very, very rare. By the most generous credible estimates, celiac disease affects not more than 1 in 105 people (although the real number is likely somewhere between that and 1-in-1,700); wheat allergy is similarly uncommon, affecting something like 2 out of every 1,000 adults. Either your potluck is being held by your large city's Celiac And Wheat Allergy Sufferers' Support Network (which is a thing I just made up), or, more likely, its guest list includes at most one or maybe two genuine gluten-sensitive types, plus some number of people who have picked up on gluten-free fad diets out of some woefully misbegotten notion that wheat gluten is bad for you just because some people are allergic to it. Which, I mean, let's not get too far down the conversational rabbit-hole of American critical-thought deficiency and widespread scientific ignorance (we're here to talk food, after all, and not to induce suicidal depression in ourselves), but: these people are dumb dummies from Dumb Island.