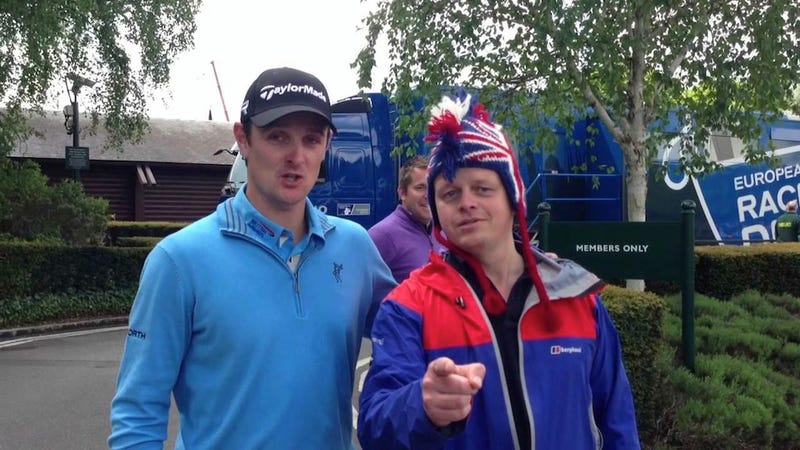 A lot of people think the man who calls himself Jungle Bird and wears a mohawked, Union Jacked knit cap and crashes sporting events for the purpose of cawing at the camera is crazy. He's not, we swear. He just wants to save the world.
Jungle Bird told me so himself. I spoke with him not long ago. He was in a gloomy mood, having recently learned that he'd been banned from golf's U.S. Open, the site of his first big television moment. "Basically, for the golf tournaments, I'm a peaceful spectator," said Andrew Dudley, a 42-year-old social media consultant, speaking with the thwarted air of a child who can't fathom why anyone would think he'd misbehave. "With the USGA, I was gonna prepare to give them my word as a gentleman that I wasn't gonna get into any messing about with the protesting."
That's what it is, after all: a protest. But let's start at the beginning. Jungle Birds are made, not born. As lads growing up outside Liverpool, Andrew Dudley and his friends would disrupt class at St. Mary's with bird calls. Dudley's was a warbling trill, repeated three times. It became a recurring joke, to be used at pubs and restaurants, and Dudley quickly realized that his distinctive call was an effective way of seizing the attention of a room. But with great power comes great responsibility, and the question became how best to utilize that attention.
Dudley's pet cause—fighting deforestation—seemed natural, and so was born the Jungle Bird. He would give the call, and after the third screech he'd yell, "Stop deforestation."
"So then," he told me, "it was a case of 'How do I get the message out there,' to make a bigger impact. And then I realized that if I could do it on live television, that would be a unique way to do it."
The world first met Jungle Bird at last year's U.S. Open. Just as the tournament ended, Dudley, the hat hidden in his jacket, made his move.