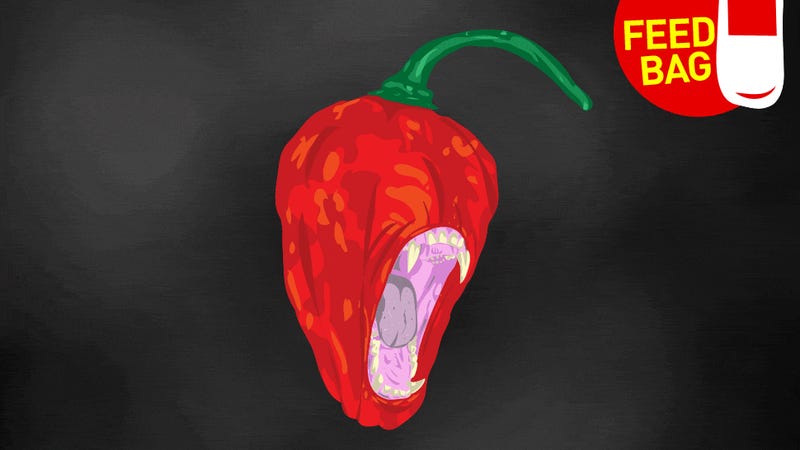 Welcome to the Feedbag, where all the dumb questions about food, drink, cooking, eating, and accidental finger removal you've been embarrassed to ask can finally receive the berating they goddamn deserve. Also: answers. Send all your even-vaguely-food-related questions to albertburneko@gmail.com with the subject "Feedbag." All of them.
Will:
A friendly barfly gave me a a couple dozen ghost peppers from his wife's garden. I'm not into tough-guy stunt eating, but I like reasonably spicy things and try not to waste free food or acts of kindness. Any way I can pickle these into submission? Like boil them in sugar and vinegar and chop them up into relish?
The trick with ghost peppers is to figure out a way to make use of them without reducing the upper three-quarters of yourself to a burbling pink froth pooled around your disembodied lower legs where they stand in their dorky, unfashionable shoes. (Your shoes are dorky and unfashionable, Will. I'm sorry.) Because, your ghost peppers can be made to add welcome piquant heat to your food if used properly, but they can also be used to sear a hole in spacetime through which the Old Gods will emerge from their eldritch prison in the chaos dimension, and that is just a bad deal all around, buddy.
This means finding a use for your peppers that maximizes your control over how much of their heat you add to any given portion of food. Relish might be OK for this, except that it's probably not realistic to think that you'll be able to achieve any meaningful diminishment of the ghost peppers' piquancy by cooking them. This means you'll have to choose between extracting and discarding the inner membrane—and thus losing out on nearly all the heat in the peppers, as well as all the use you might make of it—or including it, and taking the chance that an unsuspecting eater might take a bite of it and have his brain come boiling out of his ears and nostrils.
Make chili oil instead. Since it's a liquid, you can add as much or as little of it as you want to a dish—and, if you've made it well, extracting as much of the piquancy from the peppers as you possibly can, you won't need to add much more than a wee drop or two in order to get some serious heat going, even in a big pot of chili.