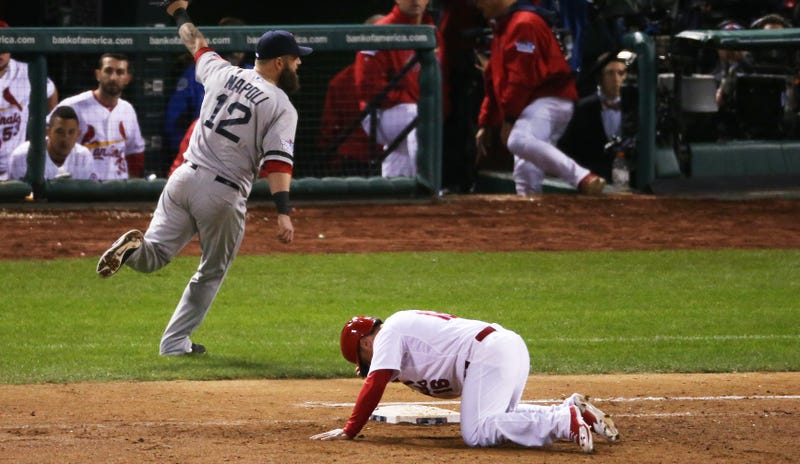 Before Saturday, no World Series game had ever ended on an obstruction call. Before last night, no World Series game had ever ended on a pickoff. Tonight: bird-related interference? It's shaping up to be one of those series.
Kolten Wong, inserted as a pinch-runner after Allen Craig's ninth-inning, pinch-hit single, couldn't have been going anywhere. He wasn't looking to steal; he was only in because Craig is hobbled by a foot injury (Craig's one-out hit would have been a double for anyone else). The tying run was at the plate, and with two outs, Wong was incidental to the game. Mike Matheny said as much, telling reporters he had gone over the Red Sox pitchers and noted Koji Uehara's good pickoff move.
"He was reminded once he got on base, and also reminded that run didn't mean much, be careful, shorten up."
A red-eyed Wong explained, or tried to explain, what had gone wrong. He didn't even mention staying out of a force play at second, the most obvious possibility. Instead, with Carlos Beltran up, he wanted to make sure he could go first-to-third on a hit. A thin justification—the modest reward was nothing compared to the risk—but Wong's a rookie, and likely had tunnel vision for his task.
His lead wasn't even that large, but he was done in one tractionless first step back toward the bag.
"I went to plant and my back foot just came right out of me," Wong said. "From there, I was dead. I knew I was dead once it happened."

Wong took to Twitter to apologize to fans after the game:

All i want to say is i'm sorry #CardinalNation I go out everyday playing this game as hard as I can and leaving everything on the field.

— Kolten Wong (@KoltenWong) October 28, 2013
It was a fuck-up, and Wong owned up to it. (Judging by the retweets from @BestFansStLouis, not all Cardinals fans are feeling particularly forgiving.) But rookie mistakes happen. And sometimes they happen in Game 4 of the World Series. Wong's just hoping then when all is said and done, no one will remember it.