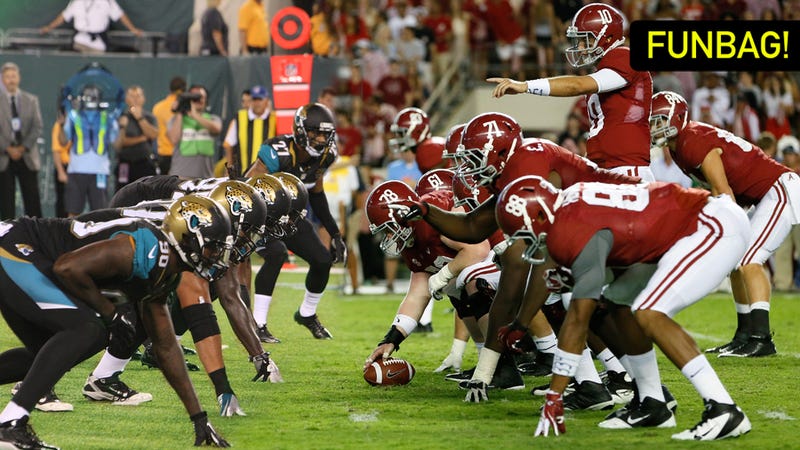 Time for your weekly edition of the Deadspin Funbag. Got something on your mind? Email the Funbag. Today, we're covering tipping for takeout, Jerry Kill, and more.
There's a dude at my gym who blasts Linkin Park through his Beats when he's in the locker room. But he doesn't WEAR his headphones. He uses them as speakers and plays the butt rock loud enough so that he can hear them without putting them on all the way. And then he sings along. That's grounds for murder, right? I didn't say shit to the guy because he looked like he could beat my ass, but what kind of monster does this? If you see this man, alert your local authorities.
Your letters:
Ed:
Which of these games has a bigger point spread: Denver vs. the Jaguars, or the Jags against Alabama on a neutral field? The Jaguars should easily beat Alabama, but they don't really have a "name your own score" offense even given the difference in talent level, which I think puts an upper limit on how much you can favor them by in that matchup.
We already know that the Broncos will be favored by four touchdowns over the Jags, making it the largest point spread in NFL history. Somehow, I don't think the Jaguars would be favored by as much over Alabama; too many people would WANT to bet on 'Bama in that instance. Whenever we make these "worst pro team versus best college team" hypotheticals, it's usually because we want to make a point about the epic shittiness of the pro team involved; we want to believe it is that bad. A win by Alabama would also help validate the quality of play in college football.