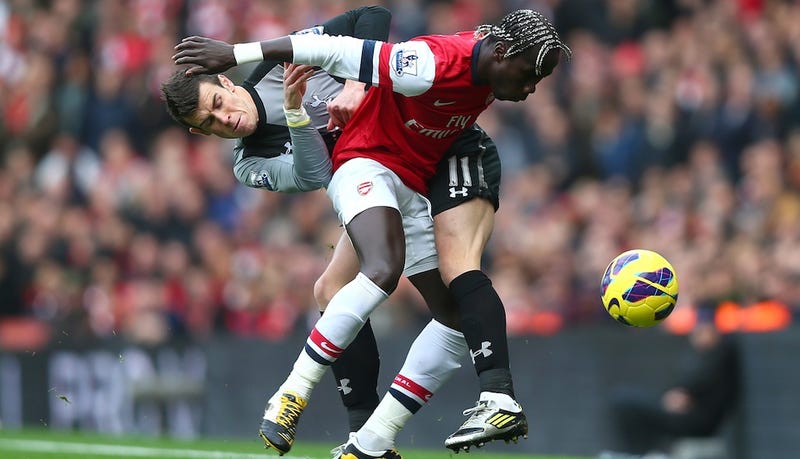 Tomorrow's the last day of the Premier League season. And while there's no drama to be had at the very top or bottom of the table—Manchester United has already lifted the trophy, and Wigan, Reading, and Queens Park Rangers are getting relegated to the Championship—there's still plenty that needs shaking out when it comes to Chelsea, Arsenal, and Tottenham qualifying for the Champions League.
Because going into the final match day, Chelsea sit in third place in the league with 72 points, Arsenal are in fourth with 70, and Spurs, with 69 points, are in fifth. The top four in the Premier League qualify for the Champions League, which translates to a shit ton of money, prestige, and the ability to go after the best players in the world in the upcoming transfer window. We know league champions Manchester United and runners-up Manchester City are in. Because of their massive goal differential, we know Chelsea are in, even if they lose to an emotional Everton on Sunday. That leaves heated rivals Arsenal and Tottenham Hotspur battling it out for the fourth and final spot.
It'd be absolutely nuts if the two sides were playing each other in the decider. They're not. The Gunners are traveling north to Newcastle, while Spurs host Sunderland in simultaneous games.
If Spurs draw or lose, they'll be out of the Champions League, headed back to the lesser Europa League. And though Sunderland's historically a blue-collar club that could give anyone trouble, they have nothing to play for after Arsenal beat Wigan 4-1 on Tuesday to send the Latics down to the Championship. Four of Sunderland's marquee players are injured or suspended for the game, so it'd be ambitious to expect the battered team to scrape a point away to desperate Tottenham.
As for Arsenal, the pressure's all on them. If they win, they're in. It's that simple. All their transgressions this season (drawing Sunderland at home and Stoke away to start the season, and losing to Norwich in October, and losing to Spurs two months ago) will be forgotten, just about. The problem, though, is that for all the beatings they put on Newcastle at home, like their 7-3 win in December, they seem to always drop points away. Newcastle know this. Arsenal know this. Spurs know this. And even though Newcastle have nothing to play for, either, it could get dicey if they get a cheeky goal early or hold Arsenal. What we're saying is, Gunners could choke.

Now, back to the relatively safe Chelsea, who just won the Europa League and who will be hosting Everton in David Moyes's last match before he takes over at United for the retiring Sir Alex Ferguson. If Chelsea win, they'll finish third. If they draw, though, it gets interesting.