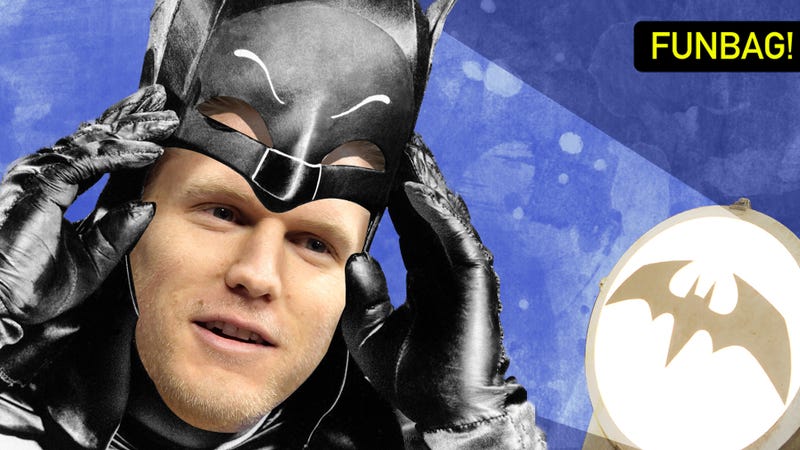 Time for your weekly edition of the Deadspin Funbag. Got something on your mind? Email the Funbag. Today, we're covering bandwagoning, dog assassination, fecal measurements, and more.
Your letters!
Tom:
What current athlete would make the best Batman? Is there also an athlete archetype that may tend to fit better?
You have to pick a UFC fighter because Batman's primary job is to disarm criminals, beat the shit out of them, and then brood all day about the scourge of evil in the world and how no one man can stop it all, nor can that one man fill the hole left in his heart with sweet vengeance (wahhhhh wahhhhh). As good as LeBron James is at basketball, it's not like he's specifically trained for that sort of thing. You need someone who is lean and compact and sturdy and can fit into tight suits and Batjets easily. So it's much better to go with Cain Velasquez or some other MMA hotshot that can put the Joker in an arm bar and wrest away the detonation remote.
But picking a fighter is an easy answer. If we're going strictly by athletes from the big four sports, I'm picking an NFL linebacker or safety, specifically one trained in the martial arts (like Clay Matthews, for example). They're less bulky than linemen, and they have a taste for blood! You need Batman to be PHYSICAL. I'd take Matthews or LaRon Landry over some dipshit baseball player, no matter how good a pitcher might be with a Batarang. I'm not entrusting the Batsuit to some country music-listening hayseed.
(NOTE: If any of you suggest Tom Zbikowski for the job, I will fucking punch you.)
Dean:
Should the Eagles/Packers have let the Saints/49ers score a touchdown with 2 minutes left? It was their only hope.
Well, that assumes that the Niners and/or Eagles would comply and score with time left, and both of those teams are probably too smart to ever fall for it. The Packers/Eagles would have had to hope that someone on the other team would pull an Ahmad Bradshaw and score on impulse. It's easier to get a team to do this at the goal line—with a touchdown so close by—than from the 14-yard-line, which is where the Saints made their game winning kick. If you lie down on the 14 and let Mark Ingram through, he's probably got enough time to figure out what kinda shit you're trying to pull. It may be your only hope, but it can also make the outcome even more assured.
In the case of the Packers, you saw how close Davon House was to blocking that kick (even if he was offside). In the frigid weather, I'd take my chances on a botched snap or hold rather than try to trick Frank Gore into scoring. You're losing either way.
El Jefe:
What exactly constitutes a bandwagon fan? Is it the lack of physical proximity to the team? Is it the amount of time one has rooted for a particular team in relation to the team's success? Or is it the number of times the fan has gone to see the team play? For the record, I am writing this record to see if I fall into the bandwagon category.
I think that the average bandwagon fan is defined as someone who only takes an interest in a team when that team has a good chance of winning it all, and someone who will not admit to this fact. You can start out as a bandwagon fan and then turn into a legit fan. For example, I think a lot of younger Cowboys fans started out rooting for the team in 1990s, when they were winning titles, and then stuck with the team as it spiraled down into hilarious mediocrity over the past two decades. Even if you aren't from Dallas and you started out as a bandwagon fan, if you've watched every game since then and stuck with the team, your fandom is now legit. You're a TERRIBLE person, but I won't question your fan cred.
People choose their favorite team for various reasons, and dominance during their childhood is one of them. The origins of your fandom don't necessarily make you a bandwagoner for life; it's what you do afterward that earns you the brand. If you flit between teams depending upon whether or not they're winning, you're a bandwagon fan (and probably a famous actor or hip hop artist). If you're a suburban mom who only talks to their kids about sports when the local team happens to be making a run, you're a bandwagon fan. If you decided that you love the Miami Heat just when they happened to acquire LeBron, and you pretend like you were always a fan of them, you're a bandwagon fan. Those are the people who deserve to be spat upon and ridiculed. Those are the people trying to conveniently mooch off a bit of title glory for themselves. We want fans to EARN their happiness. We don't want them cutting in at the last second to hoist the trophy.
This is why Yankees fans get shit on so often. People who move to New York become self-appointed New Yorkers very quickly (almost by necessity—you have delude yourself into loving New York to tolerate living there), and adopting the Yankees is often part of that transformation. God, they're fucking terrible people.
Justin:
What happens if someone murders one of President Obama's dogs? I saw a photo of them posing by the Washington Monument. If someone snipes them there, do they get charged with murder like you would of a human? Terrorism?
I don't think you can technically charge Bo's assassin with murder. But if we're talking about the President's dog, you can rest assured that Federal prosecutors would charge the killer with every feasible crime: animal cruelty, possession of a firearm, illegal discharging of a firearm, conspiracy, terrorism, attempted murder of the president himself (if he happens to be nearby), disturbing the peace, etc. And a judge will throw down the maximum sentence and/or fine in every instance. When the feds want to throw the book at you, rest assured they will find a way. That's how it works. They tailor their charges to how big of a cock you are.
In DC, cruelty to animals "resulting in serious bodily injury or death is a Felony with a fine of up to $25,000 and/or imprisonment up to 5 years." No way Bo's killer gets only five years. The general public would want that fucker's head on a stick. A little creative prosecuting and BOOM! Life sentence for animal racketeering or something.
Ian:
What if every field goal taken from inside the 35-yard line HAS to be kicked from the 35? A fifty yard field goal is still from fifty yards, but a kick from the 15 has to be moved back twenty yards. A forty-five yard field goal isn't insanely more difficult, but it's enough to make it more interesting.
It is more interesting—it probably would have forced the Niners to go for the touchdown on Sunday night—but it's inherently unfair. The reward for getting your team closer to the goal line is that field goals get progressively easier, and it should be that way. A team that advances to the ten deserves a shorter field goal that some dipshit offense that can't even make it to the red zone. So I can't go with you on this. If you want a kickass rule change to football, it's gotta be rational. For example, if you made every PAT from the 35-yard-line, now we're talking. I fucking hate the PAT.
Clay:
My wife and I have an 11-week-old, and we rarely eat dinner together on account of one of us is is always feeding, changing, cleaning, burping, tending to the baby. Last night, my wife finishes her meal, and tells me to use the same plate she used (I guess to save room in the dishwasher?), to which I promptly replied, "No, that's gross". She informed me know that we made a baby together, and I'm being immature. Naturally, I respond "Farts and Boobies!" Now we were eating lasagna that night, and her plate looked like a bunnies were slaughtered on it, very messy. Am I wrong?
Whatever floats your boat. Personally, I would have just eaten off my old lady's plate to prevent dishwasher crowding. At the end of the night, these goddamn kids have gone through so many plates and cups and spoons that the dishwasher is ready to suffer an inguinal hernia. It's more crowded than a fucking nightclub in there. I have to muscle plates into one another just to get one last cup to fit. So one plate less can make the difference between winning and losing.
But I'm extremely lax about foods touching each other. My old lady will eat some lasagna and then have salad on a separate salad plate, like civilized folk. Not me. I dump that salad right onto the lasagna bits. Helps sop up the last of the ricotta dingleberries sitting there. MMMM... LASAGNA SALAD.
By the way, I went to a parenting class once and 90% of the questions asked by my classmates revolved around eating. When you're a single person, you think nothing about eating. Seems easy. You sit down. You eat. There you go. One of the hardest things to adjust to as a parent is how fucking HARD kids make eating. They eat nothing. They never stay seated. They piss and moan about everything. It's AWFUL. There are nights when my wife will start crying because dinner has been such a fucking train wreck. It's stressful, and we're talking about EATING! One of the easiest, most pleasurable human experiences. Anyway, my teacher said that you should never expect kids to sit for long at the dinner table. And I've tried to accept that. But man, when your kids have eaten and excused themselves before you've even had a chance to salt your food, it makes you so, so pissed.