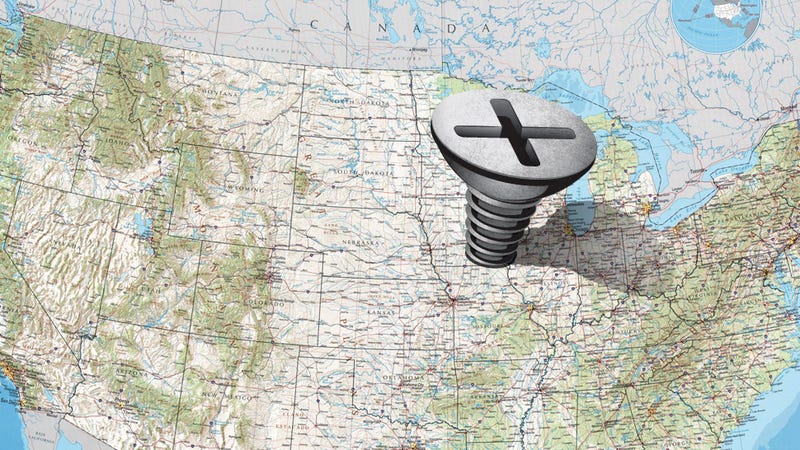 A guide to the best and worst of the NFL slate (and to which fans are stuck with the most of the worst). Maps via 506sports.com.
God bless the NFL Network, which got the Texans-Jaguars Toilet Bowl out of the way on Thursday night and greatly improved the quality of the Sunday afternoon slate. (Thursday Night Football gets repaid next week with Chargers-Broncos.) Here are your Week 14 NFL viewing maps:
CBS
Unwatchable
Buffalo at Tampa Bay: Six rookie QBs have attempted a pass this season, and so far Mike Glennon and E.J. Manuel have been the best of the mediocre bunch (with Matt McGloin not far behind). That's about all this meaningless game has going for it.
Meh
Cleveland at New England: Last week I listed a game where a crappy team played New England as "Unwatchable," but it turned out to be pretty great. Let's see what the Browns can do!
Tennessee at Denver: The Titans close the season with back-to-back games against the Texans and Jaguars, so if they can somehow steal a road win against the Broncos they'll actually be in decent shape to make a playoff push. In the very likely event that they lose, their season is all but done.
Kansas City at Washington: The weather report for D.C. is showing slow and sleet for tomorrow, so expect the Chiefs to come out with an especially risk-averse offensive set, and expect some Redskins fans to completely miss the point and ask why no one has a problem with the name "Chiefs."
Miami at Pittsburgh: It's likely that one of these completely blah teams will make the playoffs; Football Outsiders puts the Dolphins odds at 28.5 percent and the Steelers at 30.9 percent. An ugly year for the AFC.
Oakland at NY Jets: Here's hoping that the Jets—in good times and bad—are never boring (best of luck, Dom).
Must-See TV
Indianapolis at Cincinnati: The Colts are the best team in the AFC South, but if they lose this game the division has a decent shot of ending up as one of the worst of all time, by win percentage. The South's other remaining non-division games are Titans-Broncos, Titans-Cardinals, Jaguars-Bills, Texans-Broncos, and Colts-Chiefs; going winless in those match-ups would leave the division with a combined 0.359 winning percentage.