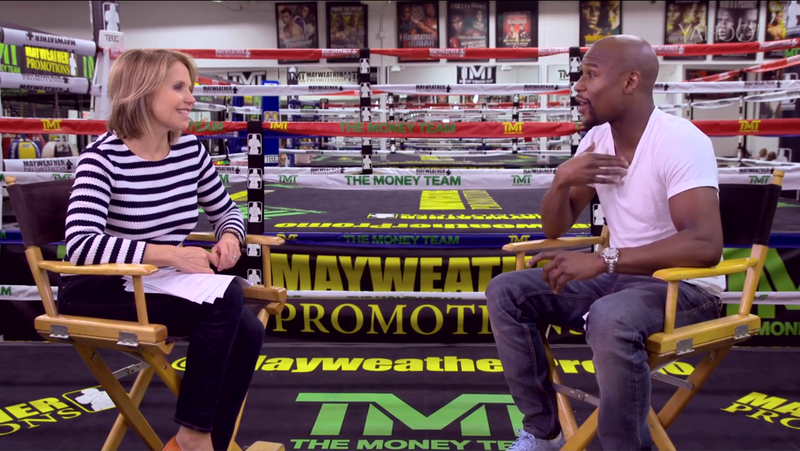 Katie Couric is a serious journalist. She was the first woman to anchor a network evening news broadcast without a male co-host. She has been a frontline star for all three major television networks. Her interview with Sarah Palin in 2008 may have singlehandedly changed the course of American history. She knows what she's doing, is my point.
So how the hell do you explain this?
In what is as much a promotional video as it is an interview, Couric recently lobbed serial batterer Floyd Mayweather a series of pitches so fat it would make a Juggs Machine blush. After introducing the topic of his history of domestic battery by referring to "reduced misdemeanor charges" of an "alleged" assault against his "ex-girlfriend," Couric allowed Mayweather to provide the following explanations for his actions without interjection:

I'm black. I'm rich. And I'm outspoken. Those are three strikes right there. So, you know, when someone says, "I got pushed or hit," I'm a fighter. So I may not really hit a person.'But guess what? I got to fight the case because I'm already guilty. They don't know if I really did it or not. But since I'm a fighter, they're gonna say, "You know what? He did it."
Did I kick, stomp and beat someone? No, that didn't happen. I look in your face and say, "No, that didn't happen." Did I restrain a woman that was on drugs? Yes, I did. So if they say that's domestic violence, then, you know what? I'm guilty. I'm guilty of restraining someone.
/scene
Just a quick refresher on the undisputed facts of that evening. On the night in question, Mayweather showed up at the home of Josie Harris, the mother of three of his children, at 2:30 a.m. Mayweather, who was engaged to another woman and living apart from Harris at the time, proceeded to berate her about her relationship with NBA player C.J. Watson, the existence of which Mayweather had confirmed by going through texts on Harris's cell phone without her permission. The situation became so heated that Harris had to call the police, who escorted Mayweather from the premises. Harris then went to sleep.