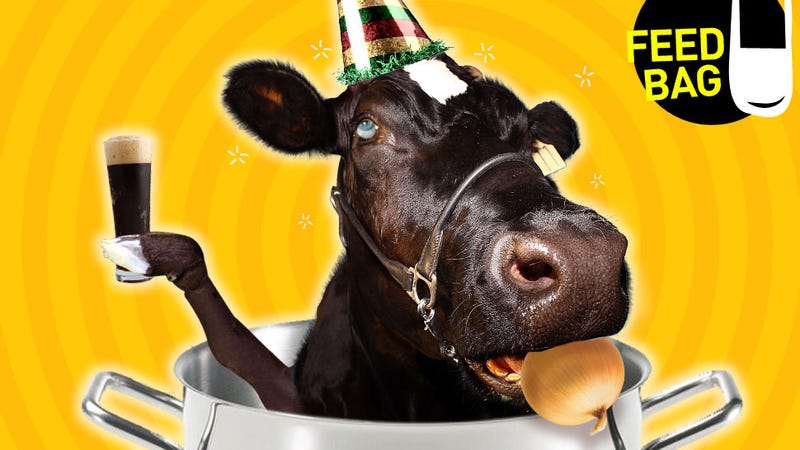 Welcome to the Feedbag, where all the dumb questions about food, drink, cooking, eating, and accidental finger removal you've been embarrassed to ask can finally receive the berating they goddamn deserve. Also: answers. Send all your even-vaguely-food-related questions to albertburneko@gmail.com with the subject "Feedbag." All of them.
Kyle:
Is there any way to make a tasty beef stew without buying a million fucking ingredients!? I make one that's palatable with beef stock, worcestershire sauce, potatoes, beef, carrots, white onion,
Use a yellow onion instead, Kyle. You'll get more flavor out of it.
garlic salt and red wine. That said, it ain't mom's and "palatable" stands in for "would probably eat it happily only when starved." I just find it a ridiculous and somewhat expensive pain in the ass to have garlic, bay leaves, yellow onion
Holy shit are you a fast learner or what, Kyle.
and the rest of the bullshit called for in like every internet recipe for something I'm making once a month, tops. Shortcuts?
It would be snide and possibly disrespectful of your financial situation for me to point out that dried bay leaves, a few heads of garlic, and an entire 10-pound bag of yellow onions is like six bucks' worth of food, and can be kept in your pantry or wherever pretty much until the end of time... but it must be done. The thing is, stew is supposed to be cheapskate food. That's the whole idea: You dump a bunch of inexpensive, unexciting things (tubers, root vegetables, aromatics, a huge wad of tough cow-ass) into a pot and torment them with low-but-unendurable heat for a long time until hardship forces them to recognize their shared interests and they band together to win their escape by conspiring to taste good. And what comes out is hearty and hot and filling and—if you have used enough salt and pepper and sweet, sweet booze in its preparation—delicious in a blunt, unsophisticated kind of way, and tastes like it required more than a couple of bucks and some grim sadism to accomplish.
If you're finding stew's ingredients too expensive to keep around, I mean, what are you cooking the rest of the time? One can only eat so much unadorned ramen before one dies of malnutrition.