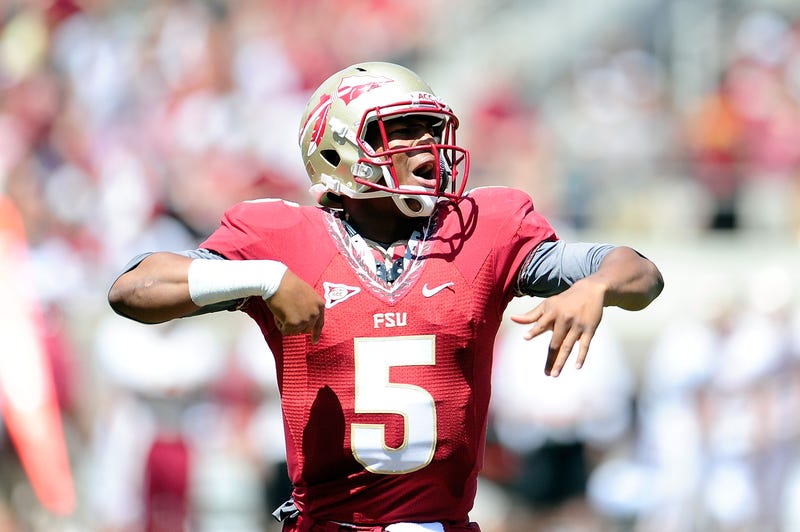 Much as it hurts me to my heart to say this as a Florida fan, Florida State quarterback Jameis Winston is going to be one of the most fun college football players of 2013 and beyond. The glorious quotes that come out of his mouth are only part of why.
Today, at an FSU media availability, Winston, a redshirt freshman who sat behind EJ Manuel in 2012 and became a phenomenon with tremendous spring play, opined on rainy days, "Manziel disease," robot tight ends, cheese balls, and black church, and generally wooed everyone paying attention. (The "Manziel disease" bit was prompted by a question.)
"The worst thing is a rainy day with no laughs"-Jameis Winston

— Perry Kostidakis (@perrykos) August 11, 2013
"If I ever get Manziel disease, I want all of you to smack me in the head with your microphones" I could listen to Jameis for hours

— Perry Kostidakis (@perrykos) August 11, 2013
Winston did drop great quotes on the media today. Asked O'Leary after his wreck "Are you a robot?" #FSU

— D.C. Reeves (@Warchant_DC) August 11, 2013
If he would give up a national championship for a lifetime supply of cheeseballs: "I would not, BUT I'm gonna get some cheeseballs anyway"

— Perry Kostidakis (@perrykos) August 11, 2013
Jameis on making people feel comfortable: "I could make you feel at home in black church."

— Perry Kostidakis (@perrykos) August 11, 2013
Then he literally dropped the mic:
But Winston isn't just a funny dude (he wants to be a throat doctor), and he's equally entertaining outside the confines of the controlled media environment.
Oh, and he's pretty fucking good at sports, and at quasi-sports things. (Throwing a ball over a house, not baseball, is the quasi-sports thing here.)
Winston's first name is pronounced JAY-miss, so Famous Jameis is almost too obvious, but you're going to hear it a lot this fall, as FSU tramples another underwhelming schedule. Please remember to enjoy him, instead of ruining him.
Photo: Stacy Revere/Getty