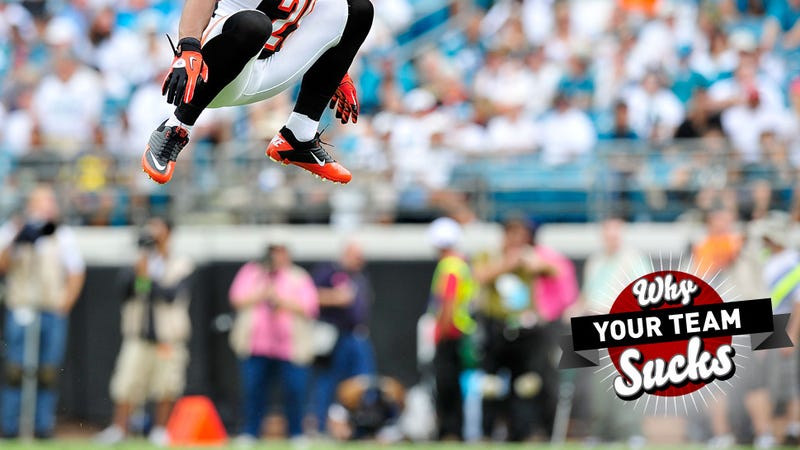 Some people are fans of the Cincinnati Bengals. But many, many more people are NOT fans of the Cincinnati Bengals. This 2013 Deadspin NFL team preview is for those in the latter group. Read all the 2013 NFL previews so far right here.
Your team: Cincinnati Bengals
Your 2012 record: 10-6. Nothing says "first-round chum" like the Bengals stumbling their way to 10-6. Did no one else in the AFC really want to make the playoffs last season? Such a waste. I bet the Texans threw a fucking party when they learned they got to play the Bengals in the first round again. It's like drawing a matchup against Glass Joe. Hey, look! The Bengals are the six seed, everyone! That's cute!
Your coach: Marvin Lewis. If you're gonna be too cheap to fire a coach before his contract is up, you could do worse than having Marvin Lewis hang around for a million years. Sure, he goes through timeouts like they come out of a Kleenex box (let's use two at a time! LUXURY), but at least he gives the Bengals an air of legitimacy that helps delude fans into thinking that they're cheering for an organization that knows what it's doing. With Marvin, at least you're not embarrassingly bad. You have no chance to ever win anything significant, but you can skate through a season and lose in the first round without anyone really picking on you. The Bengals are that one girl in high school who just wants to make it through all four years unnoticed, without ever getting doused in chicken blood.
Your quarterback: Andy Dalton, a somewhat decent quarterback who will remain exactly that for the next decade. This man will SHATTER the record for Times Selected As A Pro Bowl Alternate. It's amazing how Dalton came into the league fully formed as a just-barely-above-average passer who is good for at least one HORRIBLE turnover per game. He's Groundhog Day in football form: 3,000 yards, a dozen picks, a passer rating just a shade over 80, and a couple of nice touchdowns with A.J. Green. Every year. Over and over again. Picture Dave Krieg. OK, now picture him with red hair. There you go, Bengals. That's your quarterback until 2027.
Your one fantasy player everyone will hate: BenJarvus Green-Ellis. I hope you're excited for him scoring six touchdowns and just barely getting past the thousand-yard mark. Why, he, Lewis, and Andy Dalton fit perfectly together! They should rename the team the Cincinnati Medians.
Why your team sucks: The Bengals are proof positive that you should NEVER, EVER, EVER give your local NFL owner a new stadium. NFL owners LOVE to tell you that they need a new stadium to "be competitive" when, in fact, the opposite is true. They need a new stadium specifically so that they NEVER have to be competitive. If you don't have a new stadium, you gotta pick up notable free agents and hire name-brand coaches and do all kinds of crazy shit to keep the general public engaged. You have to go all out to win. But once you GET that stadium? You don't have to do anything! Your team will shit out money regardless of whether you go 0-16 or 16-0. With no incentive to win, you can just sit back and count. And so it is with Mike Brown, a colossal shitbag who swindled taxpayers out of over half a billion dollars for his new raccoon dump of a stadium. And what did Cincy get out of it? A team with the 24th-highest payroll in football—the same shitty, rotten, cheap, pathetic Bengals they've always been.