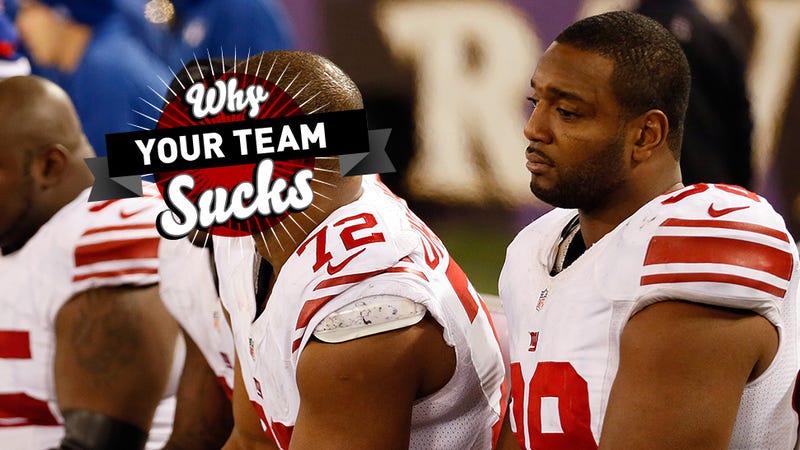 Some people are fans of the New York Giants. But many, many more people are NOT fans of the New York Giants. This 2013 Deadspin NFL team preview is for those in the latter group. Read all the 2013 NFL previews so far right here.
Your team: New York Giants
Your 2012 record: 9-7. Missed the playoffs after appearing in a Super Bowl. Like clockwork.
Your coach: Ideal buddy cop movie police chief Tom Coughlin. He's got just 10 weeks 'til retirement, Rolle! HE'S TOO OLD TO LISTEN TO YOUR HORSESHIT EXCUSES. I bet Tom Coughlin goes to bed at night wearing chinos and white sneakers. You will read 700 puff pieces about Tom Coughlin every year that say, "Hey, he's not such a dick anymore!" But then his team will lose and he will immediately throw his players under the bus and back that bus up six times to make sure they've been thoroughly run over.
Your quarterback: Greatest average quarterback of all time Eli Manning.
Your fantasy player everyone will hate: Hakeem Nicks. You draft Hakeem Nicks and you convince yourself that you just got a steal if he manages to play a full season, and he will NEVER play a full season. Every third week, he'll bust out a nice game and you will find yourself with 33% of a fantasy stud on your roster. Hakeem Nicks could tweak a hamstring working the DVR remote. So annoying. Fantasy GMs are harder on injured players than Nick Saban. Oh, you're injured? FUCKING SIT IN THAT CORNER AND DON'T TALK.
Why your team sucks: Because we at Deadspin are NERDY BLOG NERDS who live in our mother's basements, these little preseason team roasts tend to come and go without much fuss, save for the occasional angry tweet or delightful piece of hate mail. But after we posted the Giants preview last season, I got an ominous email from a Giants team official with the subject line "you and I need to have a conversation". Here now is the email exchange I had with that official: