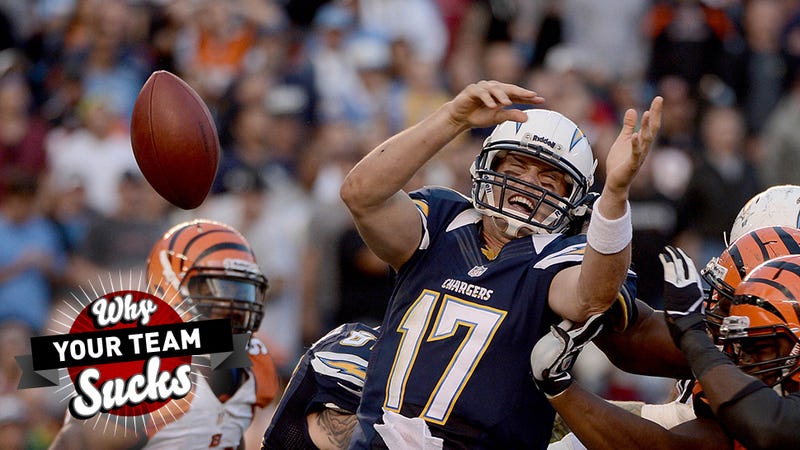 Some people are fans of the San Diego Chargers. But many, many more people are NOT fans of the San Diego Chargers. This 2013 Deadspin NFL team preview is for those in the latter group. Read all the 2013 NFL previews so far right here.
Your team: San Diego Chargers
Your 2012 record: 7-9, which is actually kind of better than I remember them being. I totally thought they had gone 4-12. Either way, if you have to go 0-16 in order to purge your franchise of AJ Smith and Norv Turner for good, you do what you have to do. AJ Smith was the absolute worst.
Your coach: Mike McCoy, who could go 2-14 and blow up a church this season and still be liked by Chargers fans simply for not being Norv Turner. It's like the grace period after winning a Super Bowl. No team that fires Norv Turner has ever come to regret it. Norv was the coach of this team for six seasons, but six seasons under Norv feels like 38. You poor, poor bastards.
Anyway, McCoy comes to the Chargers after a stint in Denver in which he milked all of the Magic Jesus Powers out of Tim Tebow. He'll need to pull that trick off one more time, because his new quarterback is...
Your quarterback: Neo-Promise Keeper Philip Rivers, aka Marmalard, aka King Laserface. I watched the Chargers game last night and within three seconds of tuning in, Marmalard had already thrown a pick and was in the ref's grill with his arms outstretched in his best THE FUCK, BRO?! stance. I'd give anything for someone to post a Vine of Rivers getting redassed at his local Walmart clerk. It would be a thing of majesty. His temper is like clockwork. I want him to retire, join the Monday Night Football booth, and spend the entire broadcast yelling, "Well, that is just shit, right there. THAT IS A SHIT PLAY."
Rivers is now 31 years old. He has 26 children and no functional knees or shoulders. He is done. So very done. Every game this season will feature him turning the ball over three times in the first 57 minutes of play, then furiously racking up 200 yards in the final three minutes of a blowout to help get his fantasy score out of negative integers. His receiving options include a healthy stable of #4 wideouts and Antonio Gates' two club feet.
Your one fantasy player everyone will hate: Ryan Mathews, who has been thoroughly hateable every year of his professional career. He is the perpetual motion drinking bird of shitty fantasy players.
Why your team sucks: Keep in mind that this is an organization that was fully prepared to continue employing Medieval Barber David Chao as team doctor before his transgressions were made public early this year. In the face of evidence that Chao wrote illegal prescriptions, botched numerous surgeries, got arrested for DUI (twice!) and generally acted like a real life Dr. Giggles, the Chargers let him stick around until the end of JUNE, which is completely insane, legal wrangling or not. Three players on this team have already suffered season-ending injuries in camp, which suggests that the Chargers have replaced Chao with Dr. Charo, his non-union Mexican equivalent.