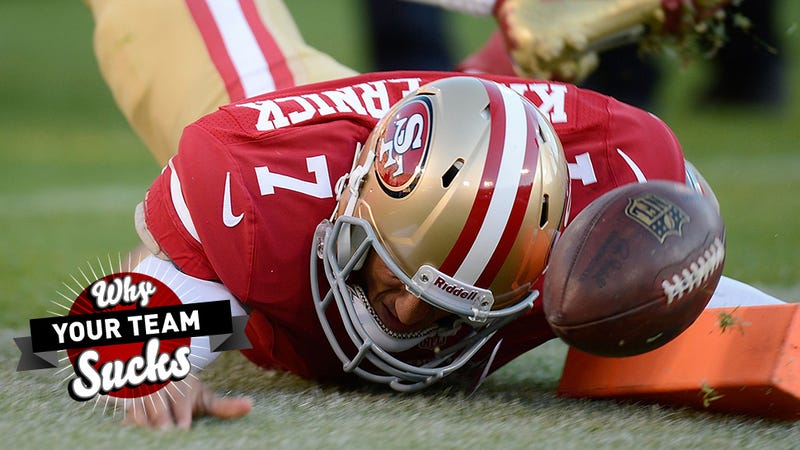 Some people are fans of the San Francisco 49ers. But many, many more people are NOT fans of the San Francisco 49ers. This 2013 Deadspin NFL team preview is for those in the latter group. Read all the 2013 NFL previews so far right here.
Your team: San Francisco 49ers
Your 2012 record: 11-4-1. That tie against the Rams really makes you question everything, doesn't it?
Oh, and one more time for posterity:
I love Harbaugh's body language in that clip. If I make the holding sign forcefully enough, someone will do something!
Your coach: Walking heart disease warning Jim Harbaugh. Harbaugh is the best coach in the NFC and I'm not gonna bother trying to prove otherwise. He certainly gets the award for MOST coaching. You won't find a coachier coach. But I can take solace in the fact that he'll never last. There's just no way he's gonna make it another three, even two, seasons without spontaneously combusting. By the end of this decade, he'll have been forced out of the game by concerned loved ones and his cardiologist, and he'll be stripping and repainting old boats on the West Coast of Mexico. Then he'll ease back into coaching by taking a low-pressure job at Cal, turn them into a powerhouse, and die of an aneurysm on the sidelines. Bruce Banner has an easier time keeping a level head.