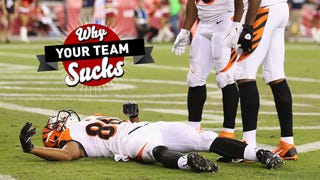 Some people are fans of the Cincinnati Bengals. But many, many more people are NOT fans of the Cincinnati Bengals. This 2014 Deadspin NFL team preview is for those in the latter group.
Your team: Cincinnati Bengals
Your 2013 record: 11-5. And you're not gonna believe this, but they lost their first round playoff game. I know! CRAZY, RIGHT?! You know how any playoff team gets asked, "Hey, what team would you like to face?" and they're all diplomatic and they say, "Aw shucks, we'll play anyone because we're just that gosh darn competitive"? That's a lie. They want the Bengals. Come playoff time, everyone wants a piece of Marvin Lewis. Every time the Bengals make the playoffs, they look like a team that got swapped in at the last second because the REAL playoff team came down with the flu.
Your coach: Marvin Lewis. Still just hanging around, like a shitty teacher who got tenure. While the divisional rival Steelers practice continuity as a matter of sound business, the Bengals never change anything because Mike Brown is both cheap and lazy. The worst part is that, if the Bengals ever fired Marvin, they would go out and immediately hire someone who is even worse. It's not even a question. They would pluck Gregg Williams off the shitheap, or make some other horrible choice. And so rooting for the Bengals means wanting Marvin Lewis fired but kinda also not REALLY wanting him fired because you don't trust Mike Brown at all with any sort of important decision making.
Coordinators Mike Zimmer (whom Bengals fans liked) and Jay Gruden (whom Bengals fans despised) are now gone. Your new offensive coordinator is… HUE!!!!!!!!!!
In retrospect, that video is terrifying. You can actually see Chad Johnson's brain leaking out of his head. Football is not a safe sport. Anyway, I bet at some point, Hue holds a secret meeting with Brown to figure out the best way to plunge a knife into Marvin's back. Call it Week 8 at the latest.
Your quarterback: Andy Dalton. Three playoff games: Six picks, one touchdown. I admire such consistency. It's a measure of how divisive Dalton is that he signed a contract extension and people went batshit, even without knowing any of the real contract parameters. It was just, "Holy shit! I can't believe they gave him ANY money!" Again, this is the problem with the Bengals. Andy Dalton throws MANY MANY interceptions, enough to make you vomit. It's a byproduct of the Bengals' offensive philosophy of, "Throw it deep to AJ Green and hope the other team doesn't catch on." But the Bengals have been so shitty for so long that three straight playoff appearances essentially makes Lewis/Dalton a kind of sad dynasty that the team can't bring itself to dismantle.