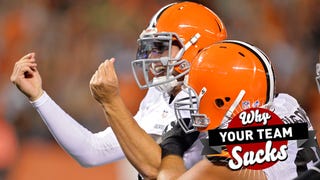 Some people are fans of the Cleveland Browns. But many, many more people are NOT fans of the Cleveland Browns. This 2014 Deadspin NFL team preview is for those in the latter group.
Your team: (sigh)
Your 2013 record: 4-12. And you know what? Things didn't start off THAT bad last season for Cleveland. They kicked Brandon Weeden to the curb after two weeks in favor of Brian Hoyer, who played really well in two consecutive victories. They traded Trent Richardson, a move that now looks monumentally shrewd, given that Trent Richardson is terrible (without that pick, the Browns would not have been able to draft Weeden's successor). Rob Chudzinski looked mildly competent (even though the team's first choice, Chip Kelly, spurned them, which will become a running theme here). Josh Gordon and Jordan Cameron were tearing shit up. This team was on the rise! I bet they even got a little UP arrow next to them in the Week 4 power rankings and everything.
So that was the beginning. Now, here is what happened next, presented in bullet form, because there are too many glaring fuckups here to accommodate added insults:
Hoyer blew out his knee
The team won one more game before losing 10 of their next 11 games
Bernie Kosar got a DUI
Exec Joe Sandusky (son of Jerry) ALSO got busted for DUI
The team signed a guy whose ACL was already torn
Toddlers at the stadium started openly drinking
The team was forced to play Brandon Weeden at quarterback again and again
Wideout Davone Bess had a nervous breakdown
The team facility's motivational quotes turned out to be fake
Chudzinski was fired after just one season, supposedly because he wasn't adjusting his game plans enough for the front office, despite the fact that every goddamn player was injured
Media people openly asked the owner and front office if they were the Three Stooges
The team fired its GM and president, but only AFTER they had fired Chud and left everything in complete disarray. It's like letting the arsonist light the fuse before you decide, "Hey, maybe I should arrest that guy."
Players openly derided the team, like so:
All of that happened. And yet, that was only the beginning! I'm going to tell you something: Most of these previews are just a rehashing of shit you already knew, because most teams don't change all that much from year to year. They all suck for the same reasons. And then… then there are teams like the Browns, who can spend a 12-month stretch fucking up in enough novel ways to fill up an entire book. Between the Browns and the Redskins, all the fucking up has been monopolized. They do not share their incompetence with other teams. They hog it all for themselves, which is kinda selfish, really.
Anyway, back to the sorrow:
Your coach: Mike Pettine, who was hired only after this team was shunned by Josh McDaniels. JOSH FUCKING MCDANIELS: the shittiest, brattiest coach in the universe. That was their first choice. That was the Browns reaching for the stars. Christ. Ask a Broncos fan about Josh McDaniels and they will tell you that he can get fucked with a shovel. That was Mike Lombardi's master plan for this team: to bring in Brian Hoyer and then let McDaniels run the show, because Mike Lombardi's life goal is apparently to execute all of Bill Belichick's discarded ideas. "Bill Belichick has Tom Brady. Let's grab the QB he doesn't need! Oooh, Bill Belichick just threw out his old toilet! I BET THAT'S A PRETTY FINE TOILET RIGHT THERE." What a fucking idiot. Such breathtakingly bad judgment resulted in this protest, which was the most Cleveland thing you will ever witness:
The Browns also made an attempt to trade for Jim Harbaugh, which failed, and pursued both Dan Quinn and Adam Gase, which also ended in failure. When the team consulted Belichick for the search, he recommended Greg Schiano (twice!), almost certainly as a prank. Owner and fucking crook Jimmy Haslam eventually cleaned out the entire front office, supposedly because he wanted Schiano and they did not, which represents a rare moment of clarity on the part of the Browns' personnel department. And yet, Haslam didn't hire Schiano, opting instead for the relatively anonymous Pettine, a charming meathead who is almost certainly in over his head, which is made of meat.