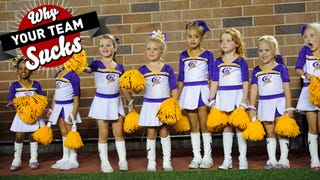 Some people are fans of the Minnesota Vikings. But many, many more people are NOT fans of the Minnesota Vikings. This 2014 Deadspin NFL team preview is for those in the latter group.
Your team: Minnesota Vikings
Your 2013 record: 5-10-1. And what a 5-10-1! No one squeezes as much misery out of five wins as the Vikings do. The best part of the season was a miracle catch-and-run by Cord Patterson…
…which was immediately followed by the defense somehow allowing Joe Flacco to drive the entire length of the field to score the winning touchdown in the span of 30 fucking seconds. The Vikings had a statistically estimated 0% chance of losing that game after Patterson's touchdown. And they lost. They also lost to Cleveland. They beat the Skins despite taking timeouts to rest the defense WHILE the Skins were out of timeouts and trying to drive down for the winning score. They blew a victory in Green Bay and ended up tying Matt Flynn. The most disruptive player turned out to be the ex-punter. The running back discovered he had a love child only after that child was found dead.