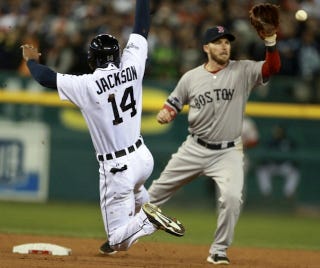 In the end it didn't matter. The Tigers won handily even with Stephen Drew clearly coming well off the bag on a would-be double play in the second inning. (The throw to first would be late.) But what if this extra out, which cost Detroit at least one run, had meant the game? This question's only hypothetical for a few more weeks. What happens to the "neighborhood play" when managers are given the right to challenge calls?
Usually if it's anywhere close, the umpire will give the out. Drew wasn't nearly as close as even the photo above makes it seem:
As soon as next season, MLB is expected to institute expanded instant replay, relying on a challenge system similar to the NFL's. If that system was in place last night, Jim Leyland almost certainly challenges Austin Jackson being called out at second. And it's most certainly overturned...right?