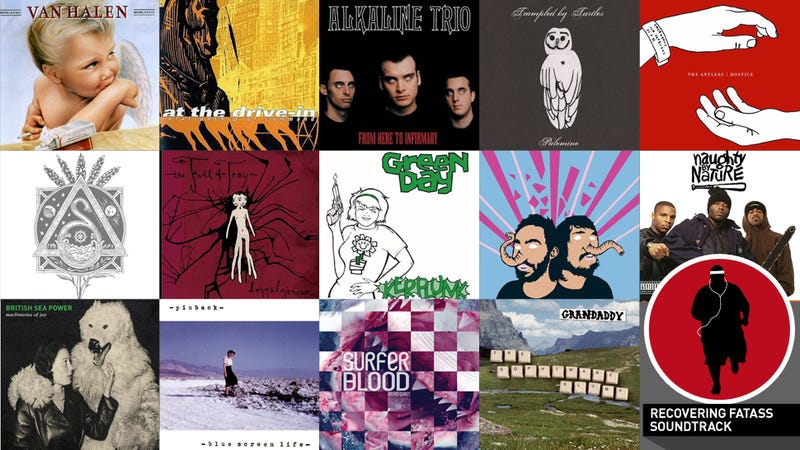 It's Sunday so it must be time for some overgrown baby to complain about fitness and share his inarguably impeccable taste in music. Yay! Your Spotify playlist is here. I'm also going to ask for some recommendations in the comments.
"Hot For Teacher," Van Halen
I'm going to start this off with a question for the more experienced runners, here: does this ever get easier? Or, more to the point, does it ever get better? I feel like I've been running fairly regularly for a fairly long time now and I've clearly made progress and I've seen real, tangible changes. I can run longer and farther than I did six, 12, and 36 months ago. I used to not be able to run more than 30 seconds without wanting to curl up and die.
The plan I always envisioned for myself was that once I got my body back to normal I would then, you know, be athletic and although doing athletic things are always strenuous and taxing, I would be in better shape to handle these things and I would therefore not be so miserable doing them. Problem is, I can now run more than 30 seconds—much longer!—but I still want to curl up and die while I'm doing it.
"Invalid Litter Dept.," At The Drive-In
What's up with that, Running? Why are you such an asshole, Fitness? I mean, I get it. These things are difficult and require effort—eggs and omelets and whatnot. But I still thought it would feel easier. Like, isn't that the point of working out, to be in better shape and more capable? Is it really just about making sure you can do the same thing just on a larger scale? Running 5o minutes today feels exactly the same as running 30 seconds last year, only it's 50 fucking minutes. 30 seconds is obviously easier, but running for 30 seconds is now useless.
I don't know, maybe I've been so out of shape for so long that I forgot how the human body and science work, but I've sort of been operating under the assumption that once I got in better shape I'd be able to run and not think anything of it. Naturally I expect it to be arduous, but I thought it would at least start to get tolerably arduous. I mean, professional athletes sweat; they get winded, cramp up, pull muscles and experience all the other shitty things that we schlubs do. But they're also competing against other professional athletes, other physical specimens and in that context, that makes sense. Two people of equivalent skill-level should experience some strain when matched up head-to-head. But when, say, Calvin Johnson is running drills in practice does he still feel like he wants to cry? Does he also just live for the brief moments where his brain is distracted and then goes back to dwelling on the misery like me?
I thought I would be able to at least get to the point where I could run 5 miles without wanting to cry. I'm beginning to think that's not really ever going to happen. I thought I would get to the point where I ran so much that it would just become routine, like I would be on some kind of autopilot. It would still be physically demanding to run 5 miles at once and my body would sweat during and ache after, I just thought at some point it would stop being so emotionally draining all the time.
"Wait So Long," Trampled By Turtles
So now I'm wondering if there is some mental thing I'm missing. I've gotten pretty far on just Nikeing the shit out of this thing, but I'm getting tired of wondering when and if it ever gets better. Maybe you don't Just Do It physically and deal with the strain, maybe there's some hidden mental trick that lets you transcend the physical anguish. To go back to the professional athlete, you can almost say that these specimens have harnessed their minds more so than their bodies. The body is just a slab of meat; and it's malleable. Maybe genetics can get you a slightly nicer cut, but you put the work into a body and you can at least make it look like David. You might not be able to make your body do the same things as Michael Jordan could make his, but you could get his body.
But how? It's not fun to work out and lift weights and train. Again, all that sweating. Pro athletes have trained their minds to accept the horrors of working out—which we all do, that's not the special part—but do they endure this forever, without any progress? It's all so Sisyphean. Now lift this rock. That is what you have trained for. Remember how lifting that smaller rock was terrible? Here is that same feeling with a larger rock. Is it all just because it's there job and it becomes another mindless activity like making photocopies or something?
I don't think so, though, because it's not just professional athletes. I see the guys in the gym, just going nuts on the weights, or the women who are on the treadmill before I got there and after I left. I want to know how a person accepts this as part of his or her life without there being some kind of easing in the process. I understand there are results: you feel better physically, you look better physically. These are well-earned benefits, but I'm still wondering about the process. To my mind, with a better-feeling and better-looking body, the work you put into it should at some point not feel so, so, soooooooo godawful.
I just want my brain to at some point act like my body feels OK with what I'm doing to it.
"Mr. Chainsaw," Alkaline Trio
Jesus. OK. Let's talk about something positive.
"Sylvia," The Antlers
I no longer sit on seats overcome with dread that I am going to break them. This was a real thing that filled me with anxiety. Those wooden, slatted chairs were the worst. Or the plastic picnic benches that were connected to the tables? Ugh. I would sit down so gingerly and I don't even know why I even bothered to sit down because the whole time I spent sitting was time spent agonizing Please don't break. Please don't break. Please don't break. Even if it's because it's a shitty chair and poorly made and ready to die, it will be because I am a fat slob and people will laugh at me. Even if they don't physically laugh in my face, they will be doing it behind their eyes. I know this. Please don't break.
That is not a fun way to spend a picnic. The whole point of sitting is that it is more comfortable than standing. That's how backwards getting out of shape makes you. Even the lazy things become chores.
This nightmare scenario of mine actually played out in a Bar Review class I was taking. Please recall, post-graduation I was a disaster of literally epic proportions. The school they were holding the review class in had those swiveling chairs that were connected to the table. I sat in the back, somehow winding up next to a female Red Sox fan who had a bunch of issues going on because she was in a wheelchair and had an ostomy bag that absolutely stunk. Anyway, she was gone one day and some other lady who was larger than me, actually, sat in the seat that usually served as the buffer between me and the bag lady.