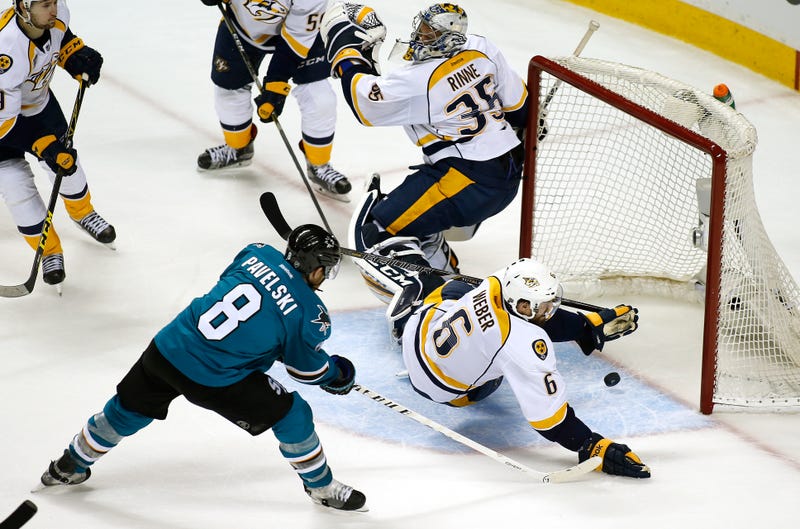 The NHL's playoff bracket is a little bit broken when each conference's best two teams are playing each other in the second round, but a nice side effect is that we're getting close series—and through two games, they look close all around. That includes Sharks-Predators, even if San Jose is up 2-0. Nashville was the better team in last night's 3-2 Sharks win, outshooting and outhitting by significant margins, but you don't have to watch hockey very long to realize the better team doesn't always win.
"I think we were the better team out there tonight," Mattias Ekholm said. "Especially in the second, late in the first and in the third. We were just as good as they were tonight. They got a lucky bounce in the end and scored."
We'll get to that bounce in a second—luck played a part, but wasn't all of it—but this was a game full of weird happenings. The Sharks got on the board first with a second-period power play from Logan Couture, and San Jose got their man advantage in a way I'm not sure I've seen before.
Watch Roman Josi, who was attempting to change, spot the puck coming right at him. Rather than take the too-many-men penalty, Josi bailed over the nearest board—directly into the Sharks bench.
"I'm assuming it's a rule that the other player can't change onto your bench," coach Peter DeBoer deadpanned. "But I don't know."
"I think someone on our bench grabbed him to make sure he stayed there," Paul Martin joked.
Couture slammed home a rebound to make it 1-0, and the Sharks' good-as-hell power play is 3-for-5 in this series, and an excellent 8-of-26 in the playoffs. (Nashville's is just 2-of-31 in the postseason.)