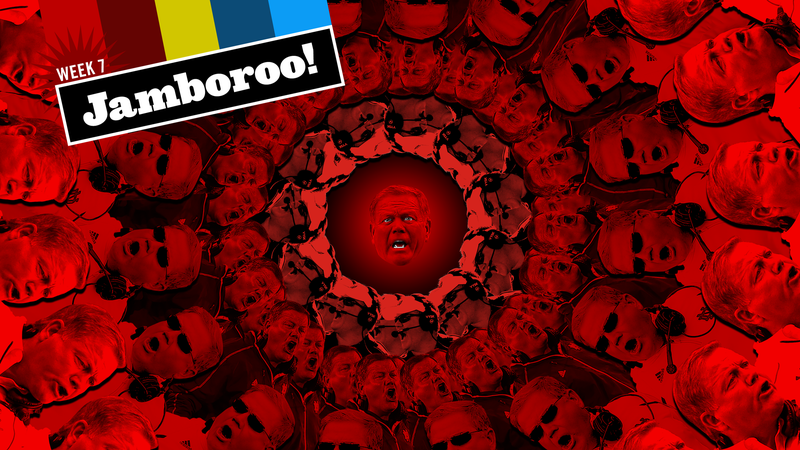 Drew Magary's Thursday Afternoon NFL Dick Joke Jamboroo runs every Thursday during the NFL season. Email Drew here. Buy his book here.

I'm gonna get into the games this week in just a moment, but first I need to talk about Brian Kelly. Because as much as I hate Notre Dame, I hate Brian Kelly even more. After losing to Stanford last week, Kelly got into a beef with the Cardinal's strength coach (of all the opposing coaches to pick on, the strength coach is the one you should least want to fuck with). I have no doubt that this spat involved yelling because Kelly, who is a literal red ass, yells at everyone. Here's a photo of him yelling:
And here's a gif of him yelling at his own player: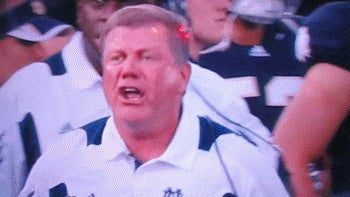 And here he is grabbing his OWN strength coach while also yelling at him:

The Irish are currently 2-5. I know this because every time they lose, I throw a little party at my house. And I'd like to draw an easy correlation between Kelly's miserable temperament and that 2-5 record, but I can't because Kelly hasn't had a losing season since 2004, and he's far from the only yeller in the coaching ranks. Dabo Swinney yells. Jim McElwain yells. Little Mora yells. Nick Saban yells, although not quite as much as the others. Jim Harbaugh yells because he has no voice modulation of any kind. Most coaches yell, and most coaches get away with it because yelling is a cheap and easy form of leadership. If you want to grab a player's attention quickly, and the stadium is already loud, raising your voice usually does the trick. In the short term, yelling works.
But in the long term, yelling is worthless. Yelling is a shortcut … a sugar rush of discipline for leaders who are too weak and/or too lacking in creativity when it comes to helping players improve. Go look at an NFL coach's sideline demeanor and compare to a maniac like Kelly. In general, NFL coaches only yell if they truly need to be heard over the din, or if they have to bitch out a ref. Would Kelly have the gall to yell at his players if they were all 26 years old? Probably not, and that's because Kelly is a fucking coward who knows he can only get away with that bullshit if he's bossing around unpaid teenagers. As with corporal punishment, yelling represents a failure of imagination.